'A Ghost Story' Review: David Lowery's Astounding Supernatural Rumination On Time & Mortality [Sundance]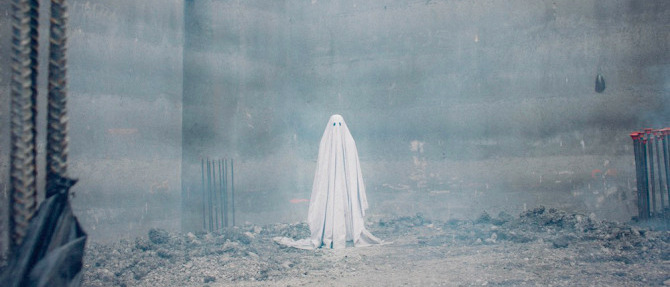 If I told you there was a movie at Sundance where Casey Affleck appears for most of the film covered in a white sheet with black eyes like some kind of cheap Halloween ghost, you'd probably think it was some sort of quirky comedy. But that couldn't be further from the truth.
It should come as no surprise that A Ghost Story is about a ghost. Casey Affleck plays a man, only identified as "C" in the film's credits who dies in a head-on collision outside of the house where he lives with his wife "M" (Rooney Mara) in a small town. After his wife sees his body one last time in the hospital and leaves, the camera lingers, and after a couple of minutes of ambient sound, the sheet covering "C" raises as if he's alive. And what follows is not horror, thriller or comedy, but a drama from director David Lowery (Ain't Them Bodies Saints, Pete's Dragon) the likes of which you haven't seen before.
Read on for our full A Ghost Story review.
After waking from the dead, this ghost walks slowly back to his house, waiting for his wife to return to the empty home. In one lengthy, inexplicably mesmerizing sequence shortly after his return, Mara finds a pie left by a friend as a token of her condolences. Seemingly just returning from the funeral, she unwraps the pie, and begins to eat it. And then she eats some more. After a few minutes, she's still eating it, sitting on the kitchen floor, tears streaming down her face. All the while, Affleck's ghost stands at a distance, watching it all unfold, the sound of the fork hitting the pie pan and the sniffles of Mara offering are almost booming as everything else is deadly silent.
If you already think this sounds boring, then this movie might not be for you.
The movie isn't so much of a supernatural drama as it is an observation of life after death. Entrancing static shots and hypnotizing slow pans throughout the house follow Affleck, always immersed in the sheet, as he wanders from one room to the next. The film itself is made all the more quaint because it was shot in the full frame, 1.33:1, aspect ratio, complete with vignette corners.
As Affleck's meandering through the house continues, he also ends up meandering through time as the world soldiers onward around him. For example, Mara's character brings a man home and eventually moves out of the house, leaving a Hispanic family to move in. Throughout these jumps in the narrative (which is far from traditional), the ghost's frustration grows, occasionally showing his presence by knocking books off a shelf, surging the electricity, or scaring the hell out of that Hispanic family by throwing their dishes around the kitchen. All of this is done in such a quiet, eerie fashion, almost voyeuristic in nature.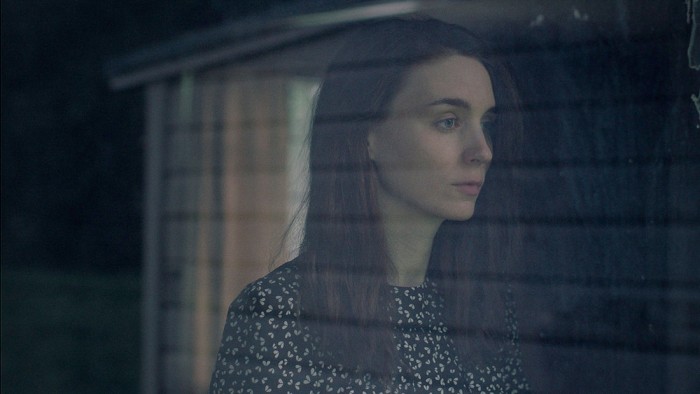 From this point on, it's best to not explain much more about the story, because the patience required for this movie pays off as the scope of the narrative expands magnificently beyond just this single ghost and the house he inhabits. This is about everyone and everything that has ever existed. A Ghost Story is David Lowery's rumination of mortality, legacy and time. As the ghost lingers in this house, the beauty of Lowery's film becomes more evident, charged by a haunting score from Daniel Hart, which even features Casey Affleck doing a rendition of the artist's track "I Get Overwhelmed," but not while he's in the sheet as a ghost.
A Ghost Story is somber, but it contains nuggets of dry humor, some brought on by the initial presence of the ghost, other bits come from his silent interaction from a distance with a ghost that inhabits the house next door. It might sound odd, but in a way, A Ghost Story is like a provocative, existential version of Beetlejuice that feels like it was directed by Apichatpong Weerasethakul (Uncle Boonme Who Can Recall His Past Lives, Cemetery of Splendor).
David Lowery's latest film is a challenging wonder, one that could easily be the kind of movie that people seek out because of high praise, but find themselves perplexed and disappointed by its proceedings. A Ghost Story certainly isn't for everybody, but it is audaciously about everybody. It takes a bold, intimate look at the daunting prospect of death and the inevitable fact that after a certain amount of time passes, there won't be any evidence that we existed at all. It may not inspire you, but it's an undeniably breathtaking piece of independent cinema that will make you feel something, and isn't that what we're all here for?
/Film Rating: 9 out of 10