'The Big Sick' Review: The Most Authentic, Unique Romantic Comedy In Years [Sundance]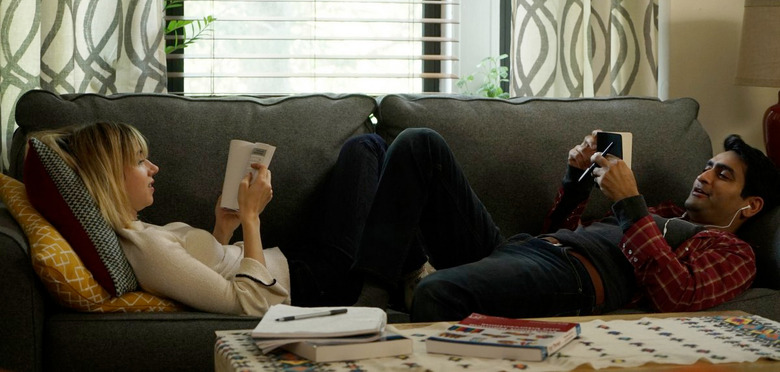 At the Sundance Film Festival, indie romantic comedies are a dime a dozen, and it takes something really special to make one stand out among the horde of movies playing in Park City, Utah. Thankfully, one of those special movies premiered at the festival this weekend.
The Big Sick tells the story of up and coming Pakistani-American comedian Kumail Nanjiani (who just so happens to be played by the Silicon Valley star of the same name, Kumail Nanjiani), living in Chicago and trying to land a gig at the Montreal Comedy Festival. After one of his sets at a local comedy club, he flirts with a woman named Emily (Zoe Kazan), and what starts as a one night stand eventually turns into real romance, and we all know how that goes. But the true story of how real life comedian Kumail Nanjiani met this woman has quite the curveball, making this one of the most unique and authentic romantic comedies I've seen in years.
Read our full The Big Sick review below.
Making the movie irresistible from the beginning is leading man Kumail Nanjiani, his dry sense of humor and delivery bringing endless charm to the proceedings. Kumail is essentially playing himself (his love for The X-Files and nerdy cinema included), with stand-up bits that will be recognizable by his loyal fans. He's surrounded by his fellow comedian friends (Aidy Bryant, Bo Burnham and Kurt Braunohler) who bring plenty of laughs to the table as they all bust each others' chops at every turn.
Then The Big Sick somehow manages to become even more wonderful when Zoe Kazan shows up. As a fictionalized version of Kumail's real-life wife, Kazan plays the kind of girl that every guy dreams of meeting at a bar without being the typical manic pixie dream girl that indie movies so often rely on. Instead, Kazan plays Emily as a woman who is nothing but true to herself, with a wit that keeps pace with the sharp humor provided by Nanjiani at every turn.
But the movie takes a turn that introduces a much more somber tone. A one two-punch comes in the form of a break-up, prompted by the seemingly insurmountable cultural hurdles Kumail would have to overcome in order to introduce Emily to his family, and the discovery of some kind of mystery illness that Emily has (all of which actually happened to the real Kumail and Emily).
This leaves Kumail to deal with Emily's parents, played expertly and engagingly by Ray Romano and Holly Hunter. These two bring so much gravitas and their own brand of comedy to the table that it would be a shame to just call them supporting performances. It also helps that the script has drawn such rich characters, thanks in part to the real life inspiration for the entire story. And while there's real emotion to be found in this puzzling medical scenario, the laughter sticks around firmly, because there's plenty of comedy to be found in tragedy after all.
What unfolds is a sincere romantic comedy that will give you hearty laughs over and over again and then squeezes tears from your eyes moments later. Director Michael Showalter has played with the romantic comedy formula before as the director of The Baxter and the co-writer of They Came Together, but this film is on another level. He balances side-splitting comedy and moving drama so effortlessly, with neither ever feeling phony, and that's not easy. Sure, the incredible cast and masterful script help, but channeling that into every single scene requires a skillful director who knows their way around honest storytelling.
I don't remember the last time a movie was able to have this much hilarity one moment and pure emotion from me, back and forth throughout the entire film. The only shortcoming might be that with a two-hour running time, it could stand to trim some minutes. That should come as no surprise since Judd Apatow produced this one, and it has flairs of his storytelling style all over. But even as I write that as a mark against, I'm not even sure what could be cut from from the movie, which is a testament to just how good it is.
The Big Sick is the first must-see movie of the Sundance Film Festival, and I wouldn't be surprised if it landed a huge distribution deal after its premiere. Winning the Audience Award feels like a safe bet as well, but it might be too early for that. No matter how all that plays out, The Big Sick deserves a big audience, and I hope it finds one so everyone can feel the pure joy and heartfelt emotion that radiates from every single frame of this movie.
/Film Rating: 10 out of 10