New 'Terminator' Movie Coming From James Cameron And 'Deadpool' Director Tim Miller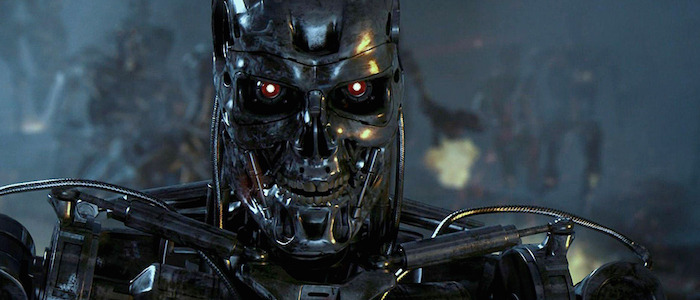 Depending on who you ask, the sequel to Terminator: Genisys either died over a year ago or it has just been on life support as everyone involved assessed whether or not it was time to pull the plug. But let's face the facts: it's not a good look when even the young stars of your newly rebooted series think it's time to let go.
So yes, the news that Terminator 6 is in the works is a surprise and yes, the news that The Terminator and Terminator 2: Judgment Day director James Cameron is coming back to "godfather" the film and wants Deadpool director Tim Miller to direct is an even bigger surprise.
If you had forgotten that Terminator: Genisys even existed, no one would blame you. The film came and went back in 2015, earning scathing reviews, shrugs from audiences, and lackluster money at the box office. Despite being the first in a planned trilogy, complete with a huge cliffhanger, no one seemed to be crying for another film.
And now James Cameron has to walk into the scene and get my hopes up. Although he offered up some nice words about Genisys around its original release, he hasn't been directly involved in these movies since part two. However, Deadline reports that he'll be getting the rights to the Terminator series back in 2019 and intends to be personally involved in the next movie. His exact role isn't specified, but he won't be directing (he's got those four Avatar sequels on his plate). Deadline breaks out the title "godfather," which implies a producer or executive producer role. In any case, Cameron wants Tim Miller, who surprised just about everyone with Deadpool last year, to helm whatever this movie will be.
A reboot? A remake? A proper sequel? A proper sequel that ignores everything that came after Terminator 2: Judgment Day? It's not clear at the moment, but it seems that SkyDance's David Ellison will bankroll the production and is currently "engaging some top-flight science fiction authors" to help break the story. Whatever it is.
We're staring at a house of cards right now. Cameron could get sidetracked by those Avatar movies. Miller could politely decline the gig. The people who throw money at film financiers may look at the box office haul of the previous two Terminator movies and decide to invest elsewhere. It's not even clear if Arnold Schwarzenegger will be back (ha), especially since Genisys had to bend over backwards to explain the ageless robot's aged appearance. Who knows what's going to happen?
At the same time...how long has it been since you've watched the first two Terminator movies? They're aces. They're two of the best science fiction movies ever made. I never get tired of them. They're just about perfect. If Cameron thinks there's another story here and wants to get personally involved, then damn it, lead the way, sir.