Shane Black's 'The Predator' Adds 'American Crime Story' Star Sterling K. Brown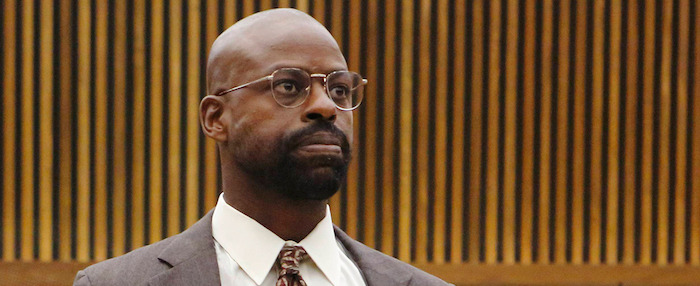 Sterling K. Brown is having a moment. He won a well-deserved Emmy for playing prosecutor Christopher Darden in American Crime Story: The People v. O.J. Simpson, a tricky role that required him to radiate intelligence and charisma while also portraying a man who makes all kinds of poor choices. He immediately followed that with a lead role on This is Us, which has become a big hit for NBC. And like any actor having a moment, he's been sucked into the world of comic book movies with a role in the upcoming Black Panther.
And the hot streak continues with Shane Black's The Predator.
The Hollywood Reporter has the news of Brown's casting in the film, a pseudo-reboot of the action/science fiction series that began in 1987. According to their report, Brown will play "a government agent who jails [Boyd] Holbrook's ex-Marine character, but later needs his help with the Predators." The article also mentions that the film is set in the suburbs, but Black himself has denied this.
Brown joins an ensemble that is already stacked with talented folks, with Narcos and Logan star Boyd Holbrook taking the lead (in a role that, trivia alert, was originally intended for Benicio del Toro). Holbrook will play a soldier who finds himself battling those ruthless alien hunters and in a display of exceptional taste, Moonlight star Trevante Rhodes and Keegan-Michael Key of Key & Peele will also play former Marines who join the fight. Olivia Munn will play a scientist who is also involved in the story.
But what is that story? We do not know, but The Hollywood Reporter says the film "will feature many of the fierce hunter killers, not just one." I wonder what the definition of "many" is here, because a single Predator almost killed Arnold Schwarzenegger back in the day. A few of these guys could tear apart an entire continent and make it look easy.
In any case, I'm happy to see Shane Black continuing to showcase great taste in actors and I'm especially happy to see Brown continuing to land gigs in high profile films. After all, he's got to prove his action movie chops if he wants to land the role of Green Lantern John Stewart in the upcoming Green Lantern Corps movie.
The Predator is currently set for a February 9, 2018 release date.