'I Don't Feel At Home In This World Anymore' Gives Melanie Lynskey A Bloody, Quirky Crusade [Sundance Review]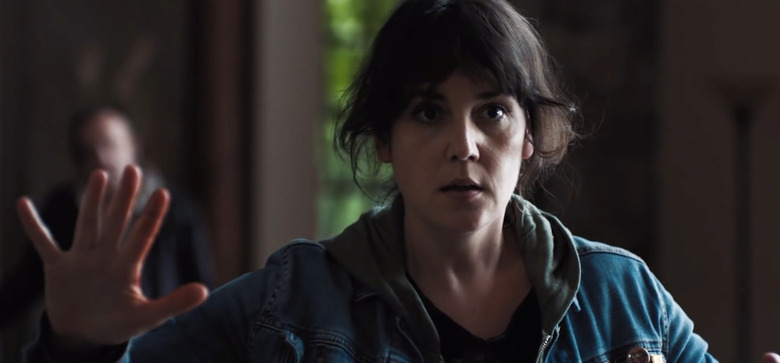 Director Jeremy Saulnier has delivered chills, thrills and blood spills at the Sundance Film Festival before. His film, Blue Ruin, featured the relatively unknown actor Macon Blair setting out to track down the people who killed his parents and deliver his vengeance upon them. It appears some of Jeremy Saulnier's filmmaking style has rubbed off on his leading man as Blair has returned to Sundance, this time as the writer and director of own twisted tale of revenge.
I Don't Feel at Home in This World Anymore (which honestly needs a new title) stars the endlessly charming Melanie Lynskey (Up in the Air, Win Win) as Ruth, a woman who is fed up with people being a**holes. It's that simple. One day, she comes home to find that her house has been broken into, with the thieves having stolen her laptop, a set of silver she inherited from her grandmother, and some prescription medication for depression and anxiety. When it becomes clear that the police are basically doing nothing to help her, she decides to take matters into her own hands.
Read on for our full I Don't Feel at Home in This World Anymore review.
Ruth doesn't go on this adventure alone though. You see, one of the a**holes that Ruth was fed up with was Tony (Elijah Wood), a guy who lives in her neighborhood and constantly lets his dog shit in her yard without cleaning it up. This is a guy with tinted prescription sunglasses, a rat tail, and a keen interest in martial arts weapons. But with no one else willing to help her, Tony is all she has. So off they go, tracking down the shady criminals who stole all of Ruth's stuff.
What follows is darkly funny thriller in the same vein of the Coen Brothers, with flairs of The Big Lebowski and Fargo, and an array of violence that is on par with Saulnier's Blue Ruin and Green Room. The odd humor mixed with the surprisingly brutal violence creates an interesting dichotomy that is never boring, though it is occasionally jarring. The film as a whole is not quite as polished or refined as the grim but amusing thrillers of Joel & Ethan Coen, but the combination of comedy and brutality is clearly intentional and purposeful, even if it doesn't always mesh well.
Though the movie is absolutely entertaining, it does feel clumsy at times. Some of the action is not shot very effectively, including one vomiting gag that doesn't quite make the most efficient use of its comedic effect in the scene. It still incites laughter, but I couldn't help but think that it could have been done a little more smoothly. Blair isn't clueless when it comes to shooting though, using the camera to set up and deliver some great visual gags, in addition to a very cleverly written script.
What makes the film work better than it otherwise might be is the eclectic cast. Melanie Lynskey is always outstanding, and this movie is no exception. The turn of Ruth from jaded nurse to vigilante seems like an outlandish one, but Lysnkey brings such a genuine performance to the table that the movie never feels overtly goofy. Elijah Wood as her peculiar sidekick is quite the scene stealer, coming through with some impressive physical comedy to accompany his masterful characterization of Tony. And the three criminals played by Devon Graye, Jane Levy and David Yow are endlessly creepy without becoming caricatures.
I Don't Feel at Home in This World Anymore acts as a parable that beckons for people to just stop being so shitty to each other. But it also cautions us to think harder about how we choose to deal with toxic people who would treat us so poorly. And if society's perpetual carelessness for how we treat each other results in the same kind of brutally, bloody climax on display in this movie, we should probably heed Macon Blair's warning.
/Film Rating: 7.5 out of 10