Anne Hathaway May Join Rebel Wilson In 'Dirty Rotten Scoundrels' Remake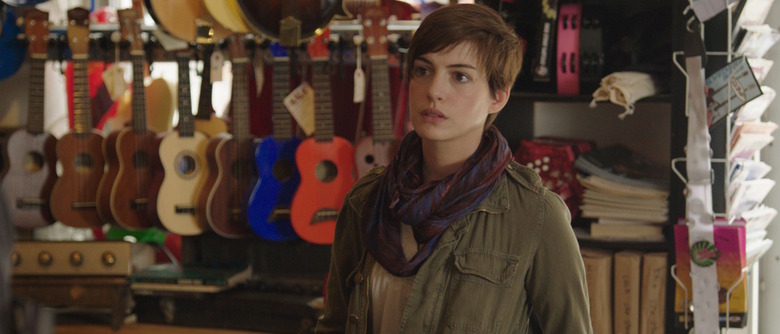 Over eight years ago, talk of a Dirty Rotten Scoundrels remake began. Hot Tub Time Machine director and Grosse Point Blank co-writer Steve Pink was hired to write and direct the remake, based on the wonderful comedy starring Steve Martin and Michael Caine, which was itself a remake of the 1964 film, Bedtime Story. Pink eventually departed from the project, which is up and running again with Rebel Wilson and (possibly) Anne Hathaway in the starring roles.
Below, learn more about the Dirty Rotten Scoundrels remake.
This version of Dirty Rotten Scoundrels, titled Nasty Women, remains faithful to the premise of two competing swindlers. As previously reported, this new story follows "two female scam artists, one low-rent and the other high-class," as they compete to "swindle a naive tech prodigy out of his fortune." The Hollywood Reporter writes that Hathaway is currently in talks to act alongside Wilson, but there's no mention which of the two roles she'd play.
The remake is written by Jac Schaeffer, who wrote The Shower, which Hathaway will produce and star in for Warner Bros. Schaffer also wrote and directed TiME, a movie our own Angie Han called "likable, if slight." Schaeffer isn't occupying the director's chair on Nasty Women. No director is attached to the comedy at this time.
Wilson is producing the remake with Roger Birnbaum (last year's The Magnificent Seven). She's also attached to a remake of another '80s film, the Goldie Hawn comedy, Private Benjamin. We haven't heard much about the Private Benjamin remake since its announcement, but with Hathaway possibly joining Nasty Women, this project seems more likely to happen in the near future. The only movie Wilson has coming up this year is Pitch Perfect 3, following her recent appearances in How to Be Single, The Brothers Grimsby, and Pitch Perfect 2.
Hathaway hasn't starred in too many comedies. The Intern or Love and Other Drug could qualify as comedies, but they're also not without drama. The last full-on comedies Hathaway starred in were Get Smart and Bride Wars, a mostly forgotten, terribly broad film with her and Kate Hudson. The Oscar-winner is mostly known for her dramatic work, so if a deal works out and she stars in Nasty Women, it might be refreshing to see her bring her talents to a studio comedy. Next up for Hathaway is Ocean's 8, which is currently filming, and Colossal, which I hear nothing but good things about. Our own Angie Han wrote she had "never seen anything quite like it before."