Dwayne Johnson Will Star In A 'Black Adam' Standalone Movie (In Addition To 'Shazam')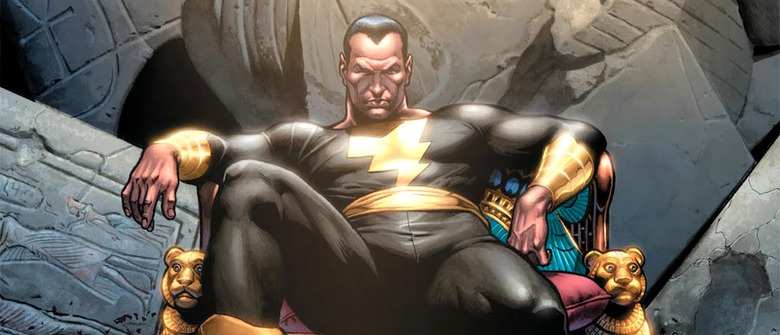 Warner Bros. and New Line are so excited to see Dwayne Johnson in Shazam!, they've decided they want to do it twice. The DC Comics-based feature has reportedly been split into two different films. One will be Shazam, as previously announced, and the other will be a Black Adam standalone movie starring Johnson. 
Johnson has been attached to play Black Adam in a Shazam! movie since 2014. As of now, the film is scheduled to open April 5, 2019. The role of Shazam has not yet been cast.
"Kneel at his feet or get crushed by his boot." My honor to become.. #BlackAdam #TheAntiHero #DCComics pic.twitter.com/Qk55eNf3R7

— Dwayne Johnson (@TheRock) September 3, 2014
But Deadline broke the news today that the studio is already making plans for a separate Black Adam movie to star Johnson, probably because they've realized that the Rock is great at starring in franchises. The Black Adam movie does not yet have a release date. Warner Bros. does have a few dates already locked in for its DC movies over the next few years, though, so it is possible they'll move some of those around to make room for Black Adam.
In the days leading up to today's news, Johnson had been dropping hints about his plans with DC on social media.
Had a very cool and strategic meeting with the heads of DC about their entire universe. As a hard core DC fan, to get a real sense of the tonal shifts and developments coming in these future movies has me fired up. Something we, as DC fans have all been waiting for for a very long time. Hope, optimism & FUN. Even when talking about the the most ruthless villain/anti-hero of all time finally coming to life. Prepare yourselves DC Universe. #KneelAtHisFeet #OrGetCrushedByHisBoot #BlackAdam??
Shazam and Black Adam both started out in Fawcett Comics in the 1940s before being folded into the DC universe in the 1970s. Black Adam was originally given the powers of Shazam in ancient Egypt, but he lost them after he was corrupted. When the powers went to young Billy Batson centuries later, Black Adam returns in a fury. In more recent times, he's evolved from a supervillain to more of an antihero. Which isn't to say he's all that nice these days, either. As you can see above, Johnson describes Black Adam as "the most ruthless villain/anti-hero of all time."