Neil Gaiman And Terry Pratchett's 'Good Omens' Coming To Amazon As A Miniseries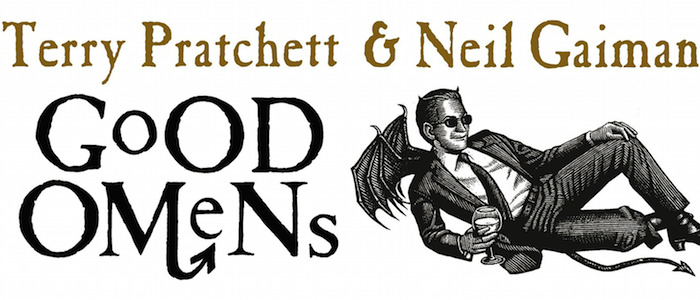 Years ago, director/genius Terry Gilliam set out to adapt Neil Gaiman and Terry Pratchett's brilliant novel Good Omens into a feature film starring Robin Williams and Johnny Depp. It never came to pass. Other versions, including a television adaptation by Terry Jones, briefly appeared before vanishing again. But good things sometimes come to those who wait and Amazon and BBC Studios are teaming up to make a Good Omens miniseries for 2018, with Gaiman himself writing every script and serving as showrunner.
This news arrives many months after it was first revealed that Gaiman was working on a miniseries adaptation of the 1990 book that he co-wrote with fellow fantasy novelist Pratchett, who passed away in 2015. The original novel is a blast, a joyfully blasphemous satire about the end of the world and the demon and angel who step in to prevent the apocalypse because they like living on Earth, thank you very much. Here's the official description of the novel:
According to The Nice and Accurate Prophecies of Agnes Nutter, Witch (the world's only completely accurate book of prophecies, written in 1655, before she exploded), the world will end on a Saturday. Next Saturday, in fact. Just before dinner.
So the armies of Good and Evil are amassing, Atlantis is rising, frogs are falling, tempers are flaring. Everything appears to be going according to Divine Plan. Except a somewhat fussy angel and a fast-living demon—both of whom have lived amongst Earth's mortals since The Beginning and have grown rather fond of the lifestyle—are not actually looking forward to the coming Rapture.
And someone seems to have misplaced the Antichrist...
Although there isn't a release date yet, we do know that all six episodes of the miniseries will premiere on Amazon Prime Video and that it will be broadcast on the BBC in the United Kingdom sometime after its initial premiere. No other talent is attached yet (although we know that Caroline Skinner, Chris Sussman, Rob Wilkins and Rod Brown will executive produce alongside Gaiman), but here is Gaiman's statement on the project:
Almost thirty years ago, Terry Pratchett and I wrote the funniest novel we could about the end of the world, populated with angels and demons, not to mention an eleven-year old Antichrist, witchfinders and the four horsepeople of the Apocalypse. It became many people's favourite book. Three decades later, it's going to make it to the screen. I can't think of anyone we'd rather make it with than BBC Studios, and I just wish Sir Terry were alive to see it.
Gaiman has a complicated relationship with Hollywood. Over the years, he's had to watch Hollywood fail time and time again to adapt his brilliant Sandman comic series for the big (and small) screen. He's had a recent run of good luck, with an adaptation of his novel American Gods coming to Starz in April and now this. It's wonderful news that an adaptation of Good Omens is finally happening, but it's better news that Gaiman is so heavily involved. There are stories about screenplays supposedly based on Sandman that will make fans' hair stand on end with the liberties they take. At the very least, Gaiman will be able to preserve and protect his and Pratchett's work.
We'll let you know when we know more. This will be one to watch.