'Ghost In The Shell' Super Bowl Spot: Scarlett Johansson Goes Full Anime RoboCop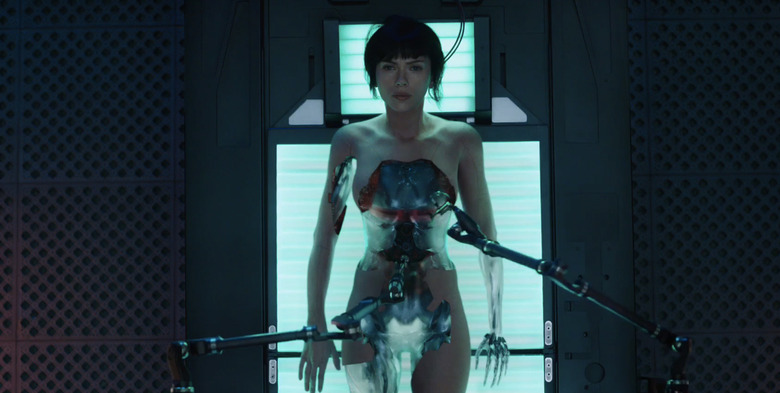 As I'm not familiar with the original Ghost in the Shell manga or anime, I can only watch the trailers for the new film as a detached observer with no real stake. For example, I can note that the first trailer for director Rupert Sanders' live-action take starring Scarlett Johansson gives off some serious Blade Runner and RoboCop vibes, mainly because I have no idea whether or not it looks or feels anything like the source material. All I can say is that it sure looks really pretty.
And as you'd expect, the new Ghost in the Shell Super Bowl spot that just arrived (because why wait for the actual game?) looks awfully pretty, too.
Of course, making things that look awfully pretty is something Sanders does quite well. While I'm not a particularly big fan of his Snow White and the Huntsman, it's filled with incredible visuals and locations and creatures that still stick out in my mind even as the story itself has melted away into nothingness. If he's paired with the right material, I imagine Sanders could create something remarkable. Could Ghost in the Shell be that movie? It certainly helps that I love Johansson and want her to deliver on the promise of being one of this generation's great action heroes. She has all the proper chops.
Good or not, Ghost in the Shell has found itself in the middle of a storm of controversy over Johannson's casting, with many fans rightfully arguing that this role should have gone to a Japanese actress. No number of cool visuals can help me fully forget about this, especially since those involved don't seem particularly interested in listening and engaging in conversation with those who are upset by this. Even if the movie is fun, even if Johansson is as cool as I expect she will be, this is always going to be on the edge of my mind.
Ghost in the Shell opens on March 31, 2017. Here's the official synopsis:
Based on the internationally-acclaimed sci-fi property, "GHOST IN THE SHELL" follows the Major, a special ops, one-of-a-kind human-cyborg hybrid, who leads the elite task force Section 9. Devoted to stopping the most dangerous criminals and extremists, Section 9 is faced with an enemy whose singular goal is to wipe out Hanka Robotic¹s advancements in cyber technology.