'John Wick: Chapter 2' Clip: A Boogeyman And His Dog Walk Into A Murder Hotel...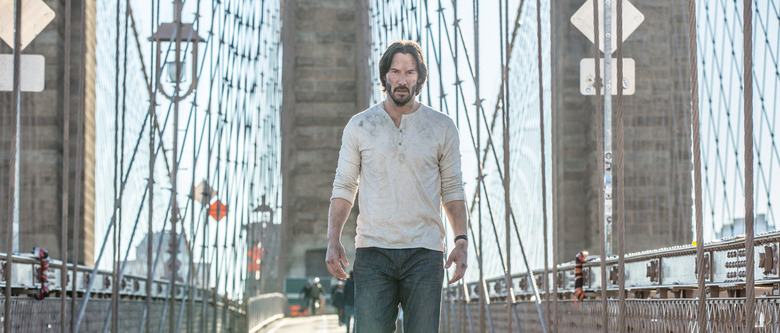 I've become something of a broken record when it comes to John Wick, a movie I've watched more times than I could possibly count at the point. You wouldn't see me putting it on any top 10 of all time lists, but if I was allowed to only rescue a handful of Blu-rays from my burning home, I would grab Chad Stahelski and David Leitch's action masterpiece. Yeah, I'll break out the "m" word for this one.
A new clip from the upcoming John Wick: Chapter 2 has arrived and it gives me a feeling akin to sinking back into a soft, well-used couch. Not because it's full of head-exploding action (although the final film will be surely full of that), but because it captures the original's dry sense of humor and finely tuned sense of location and character.
If you've seen the original film, you'll instantly recognize the location seen in this clip. It's the Continental, a swanky hotel that caters exclusively to professional assassins, hitmen, murderers, and other well-dressed scoundrels. The gentleman at the desk is Charon (Lance Reddick), who runs the front-of-house for Ian McShane's Winston. It's not clear why Keanu Reeves' John, the "boogeyman" of the criminal underworld, is striding into the lobby looking worse for wear, his faithful dog at his side, but you just know that whoever forced him to walk into this room dressed in a filthy shirt is going to get a bullet or two in the face.
Damn, John Wick: Chapter 2. You've won my heart already.
John Wick: Chapter 2 is directed by Stahelski (Leitch is off preparing to direct Deadpool 2) and features a supporting cast that includes  Laurence Fishburne, Ruby Rose, Riccardo Scamarcio, Peter Serafinowicz and Common. It's one of my most anticipated movies of 2017 and it opens on February 10.
In this next chapter following the 2014 hit, legendary hitman John Wick (Keanu Reeves) is forced back out of retirement by a former associate plotting to seize control of a shadowy international assassins' guild. Bound by a blood oath to help him, John travels to Rome where he squares off against some of the world's deadliest killers.