'Bad Day For The Cut' Trailer: Revenge Has An Irish Accent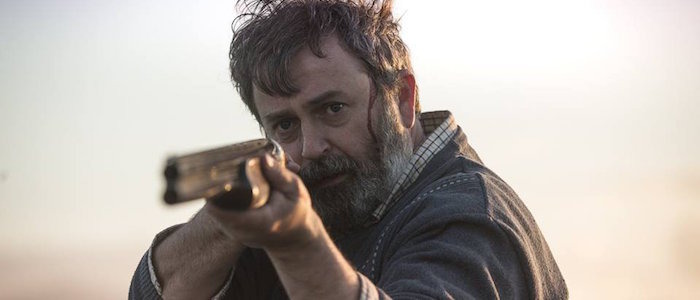 Much like how the Sundance Film Festival itself helps set the stage for every other film festival in the year that follows, the fest's Midnight category helps to gauge what we can expect from independent genre cinema over the next twelve months or so. While I'm not attending Sundance (our own Peter Sciretta, Angie Han, and Ethan Anderton will be bringing you reviews over the coming week!), this is the section I tend to keep the closest eye on. Sundance has premiered plenty of unforgettable, and often gnarly, movies after the sane people have gone to sleep.
So that brings us to the trailer for Bad Day For the Cut, an Irish thriller that looks like it'll be right at home with the after-hours crowd. It has everything you need: Revenge! Violence! Thick accents! A Game of Thrones veteran!
The feature debut of co-writer and director Chris Baugh, Bad Day For the Cut stars Nigel O'Neill as Donal, a middle-aged farmer who still lives with his mother and spends his simple days working the land and drinking at the pub. But since this is a Sundance Midnight movie, things go horribly awry: his mother is killed in an apparent home invasion and Donal drives to Belfast to find her killers and claim his revenge. Naturally, he stumbles on something much larger and more awful than he could have possibly expected. At some point, Ian McElhinney (better known to many people as Westeros' own Barristan Selmy) pops up.
Considering that Baugh's filmography is otherwise filled with episodes of children's television shows, Bad Day For the Cut looks like a filmmaker getting a lot of stuff off his chest. The footage here looks violent and mean and troubling, reminding me very much of Jeremy Saulnier's modern masterpiece Blue Ruin. Yeah, I'm on board for for this one.
Here's a fuller description of the plot, via Deadline:
Directed by Chris Baugh from a script by Baugh and Brendan Mullin, 'Bad Day For The Cut' follows Donal, a farmer who still lives at home in a little Irish village with his mother Florence. Working the fields by day and drinking in the local pub at night, he seems content with a simple, quiet life, the only sense of his wish for something more coming from an old campervan he has lovingly restored. When Florence is killed in an apparent home invasion Donal sets off for Belfast in the little red van, looking for revenge. What he finds is a world of violence and brutality that he can't understand and a secret about his mother that will shake him to his core.
And you can check out the poster for the film below. Bad Day For the Cut will make its Sundance premiere on January 22.