'Attack On Titan' Movie In The Works From 'Harry Potter' Producer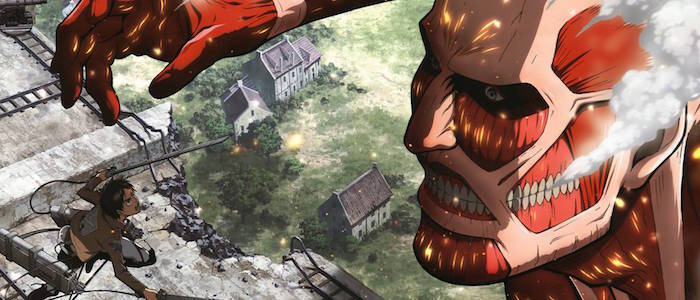 I haven't read a single page of Attack on Titan, nor have I seen anything beyond a trailer for the anime or the Japanese live-action film from a few years ago. However, I have heard from the fans of this action/horror/science fiction series, who insist that it is excellent and worthy of my time. Now that Warner Bros. is currently looking to secure the rights to a new version with Harry Potter series producer David Heyman on board, it may finally be time to check it out.
Deadline reports that Warner Bros. is currently negotiating to obtain the rights to the series, which began its life as a manga written and illustrated by Hajime Isayama in 2009. 21 volumes later, the series is still a smash hit in Japan, where it has inspired an animated series, two feature films, four video games, and even a few spin-off novels. While huge overseas, Attack on Titan has only managed to build a small but dedicated fanbase stateside, something that could change with the release of a major Hollywood movie.Attack on Titan takes place in a distant future where the last remnants of the human race live in connected cities behind by massive walls, built to protect survivors from the hulking "Titans," skyscraper-sized monsters that wiped out most of Earth's population a century earlier. And if you think that wall will fall and that a band of heroes will come together to fight the monsters and protect their home, you'd be thinking right.
In addition to the eight Harry Potter movies and the Fantastic Beasts and Where to Find Them series, David Heyman has also produced Gravity, Paddington, We're the Millers, and I Am Legend. He also produced the barely remembered (but so great!) 1999 horror movie Ravenous, which means that he'll always own a tiny piece of my heart. I have no idea what an American version of Attack on Titan will look like (this series seems to be, as the kids would say, "Japanese AF"), but who am I dismiss a film about humanity warring against giant naked monsters in the post-apocalyptic future?
For reference, here's a trailer for the anime series:
And here's the trailer for the live-action adaptation, which was directed by Shinji Higuchi and was released in two parts over the summer of 2015. Interestingly, Deadline reports that the Hollywood version would be a remake of these movies rather than a new adaptation of the original source material.
Of course, Warner Bros. still has to secure the final rights to Attack on Titan. We'll keep you posted as we know more.