Jerry Seinfeld's Netflix Deal: Two New Stand-Up Specials, 'Comedians In Cars Getting Coffee' & More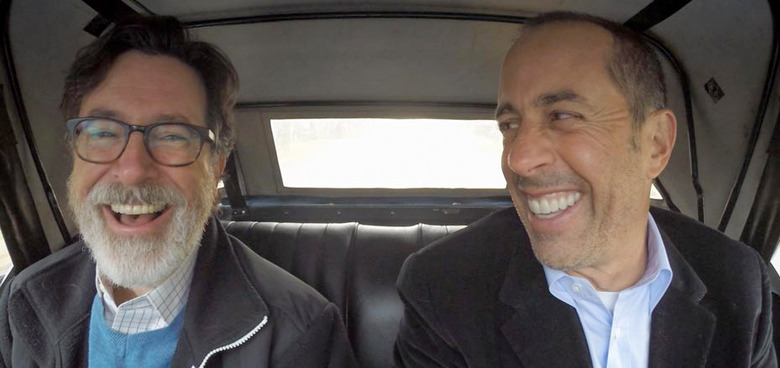 If Netflix landing new comedy specials from
and
wasn't enough to solidify the streaming service as the best place for new stand-up comedy, the latest addition to their roster should do the trick.
Jerry Seinfeld has just struck a new deal with Netflix that effectively makes the streaming service the new home for all of his comedic endeavors. This includes stand-up specials, his continuing series Comedians in Cars Getting Coffee, and the potential for new programming from the comedian.
Find out more about the Jerry Seinfeld Netflix deal after the jump.
Netflix announced their partnership with Jerry Seinfeld today in a press release, and it includes plenty of great news for fans of the man who created NBC's hit sitcom Seinfeld with fellow comedian Larry David. Sadly, it doesn't include the streaming rights to every episode of Seinfeld (which you can find at Hulu), but the deal comes with some very exciting prospects.
First up, Jerry Seinfeld will film two brand new stand-up specials that will be exclusive to Netflix, and the first will arrive sometime later this year. Netflix already has a huge library of stand-up specials, and they're adding more from today's top comedians every single month.
Next, Netflix will become the new exclusive home to Seinfeld's unique talk show Comedians in Cars Getting Coffee. As the title indicates, the show follows Seinfeld as he picks up various comedians in some very cool automobiles, stops to get coffee, and chats with them about their life, career and comedy. It's a candid, funny and fascinating series that has been on Sony's free streaming service Crackle since its inception, but it will come to Netflix with no less than 24 new episodes in the pipeline (along with all of the old episodes) beginning at the end of 2017 and heading into 2018 and beyond.
Finally, there's the hope of new shows coming from Seinfeld at some point as the Netflix deal also has the comedian helping develop scripted and non-scripted comedy programming for the streaming service. The additional elements of the deal with regards to that part of Seinfeld's collaboration with Netflix will be revealed at a later time.
With Netflix striking deals like this with a high profile comedian like Jerry Seinfeld, the streaming service is becoming the supreme destination for the best comedy today. They're showcasing specials from up and coming comedians and giving a home to the big name comics as well. They might even start outpacing Comedy Central with the number of stand-up specials they're churning out each year.