'Becoming Warren Buffett' Trailer: Watch A Billionaire Enjoy A Sausage McMuffin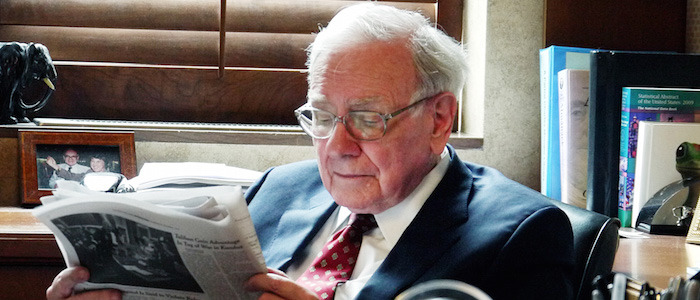 If you need a change of pace from the news headlines of late and want to take a look at an American billionaire who doesn't inspire dread and panic in much of the world's population, HBO's new documentary Becoming Warren Buffett may be for you. Boasting "unprecedented access to Warren Buffett's day-to-day personal life," the documentary looks like a pleasant look at one of the most respected rich guys in the United States.
The trailer begins with Buffett, who is 86 years old and has lived in Omaha, Nebraska for much of his life, ordering a sausage and egg McMuffin from a McDonald's drive-through and it only gets more charming from there. The founder of Berkshire Hathaway Inc., who was awarded the Presidential Medal of Freedom by President Barack Obama in 2011, is a fascinating subject, a billionaire who has pledged to give away 99% of his fortune and has been mostly true to his word. Could this be the rare movie about American wealth that doesn't make you want to jump off a cliff? Maybe!
Becoming Warren Buffett is the latest film from director Peter Kunhardt, a veteran documentary television director director whose credits include Echoes From the White House, Freedom: A History of Us, Gloria: In Her Own Words, Nixon by Nixon: In His Own Words, and Living With Lincoln. He has been nominated for five Emmy awards and has won two as a producer, taking home honors for Jim: The James Foley Story and Teddy: In His Own Words. His Emmys double if you include his two News and Documentary Emmy Awards, which he won for The African Americans: Many Rivers to Cross with Henry Louis Gates, Jr.
HBO will premier Becoming Warren Buffett on January 30, 2017. Here's the official synopsis:
Becoming Warren Buffett tells the improbable story of how an ambitious, numbers-obsessed boy from Nebraska became one of the richest, most-respected men in the world. The definitive documentary on Buffett, this candid portrait sheds new light on a man who has helped shape the way Americans view capitalism and, more recently, philanthropy.