A New Cut Of 'Ali' Is Now Available On Blu-Ray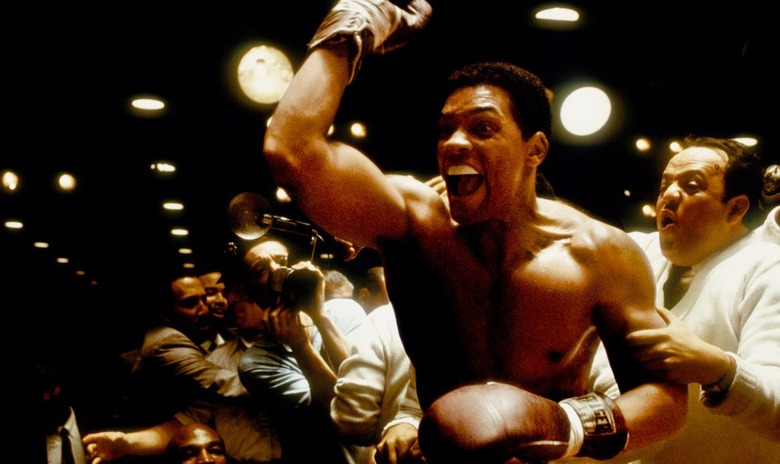 Michael Mann has gone back and re-edited several of his films, including Manhunter and most recently, Blackhat. Sometimes these changes are substantial, other times they're redundant. The director believes his last cut of The Last of the Mohicans is the superior film, while most of his fans seem to agree the Director's Cut of Miami Vice is the inferior version. Now Mann has gone back and changed another one of his films, Ali, for the third time.
Below, learn more about the new Ali alternate cut.
Ali is a sprawling biopic about the life of boxer Muhammad Ali, who passed away last summer. The theatrical cut was 157 minutes; the new cut on the Ali: Commemorative Edition Blu-Ray is 151 minutes, which is 14 minutes shorter than the Director's Cut. With the film finally available on Blu-Ray, Mann has been looking back on his 2001 drama and discussing why he decided to make more alterations.
Here's the explanation Mann gave Deadline:
With the hindsight of history, I felt the drama didn't get all the way there. It wasn't as strong as it should have been. I don't think I changed anything on a movie like Heat [rereleased in 2015 after 20 years], but here, the proportion and how it made you feel, wasn't quite right. I always knew how I wanted you to feel but I wasn't sure that you were actually getting it. And then it occurred to me, what to do to make it be there.
The Village Voice's Bilge Ebiri writes the new cut makes "themes clearer and even adds some contemporary relevance," adding it's "more political and more personal." While speaking with Ebiri — a great interview — Mann elaborated o
What made me want to go back into it was time. It's a different time. The original dealt with a number of evolving dynamics in Ali's life. It was all kind of woven together: the political conflicts, his tumultuous romantic life, his identity quest. Who exactly was he going to be? He was a representational figure — and he was constructing that figure as he went through life. And in 2016 what I really wanted to see was somewhat different, which is that the biggest adversary Ali had was political. I wanted to strengthen that as the central conflict in the whole story. To my way of thinking, it makes everything more relevant — including the more intimate scenes, like his split with Belinda. It's a process of expanding and compressing. I couldn't even tell you if this film is longer or shorter than the theatrical release.
Mann cut a few sequences from the film, including Ali's fights against Ernie Terrell and Cleveland Williams. Mann removed Ali's fight against Williams scene because he believed the film was getting "too episodic," which is a minor problem with the original cut, which features some stunning sequences, especially the first 15 minutes which grab you in a way so few biopics do. When the film was released in 2001, it was mostly well-received but it's thankfully found more admirers since then.
Ali: Commemorative Edition is now available to purchase.