Netflix's 'David Brent: Life On The Road' Trailer Will Make You Cringe (Hopefully In A Good Way)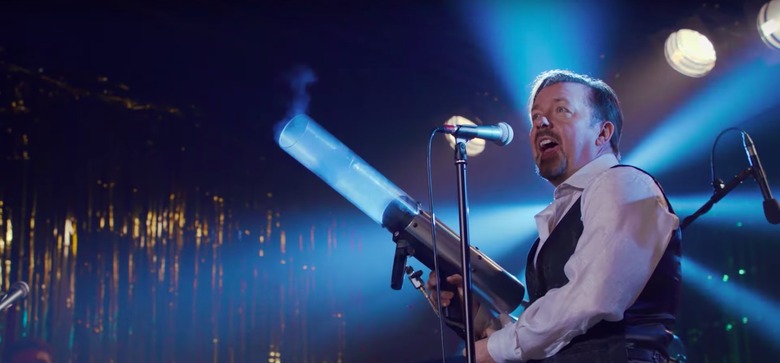 It has been well over a decade now since the end of the U.K. Office, which centered around bad boss David Brent and the poor underlings forced to work with him. So what's the old chap been up to since then? A new Netflix movie promises to answer that question.
Written by, directed by, and starring Ricky Gervais, David Brent: Life on the Road reveals the former Wernham-Hogg manager is now a traveling salesman for a cleaning products company. When he isn't pushing mops and brushes, he's pursuing his dreams of rock stardom with his band, Foregone Conclusion. The mockumentary follows the group on their self-financed U.K. tour, with predictably cringeworthy results. Watch the David Brent: Life on the Road trailer below. 
David Brent: Life on the Road Trailer
Yep, to the surprise of absolutely nobody, it turns out David Brent is as bad a rock star as he was a paper company manager. "You think it's painful to watch? I have to stand next to him," laments a band mate at one point. And it doesn't seem like he's all that great at selling cleaning products, either, based on the horrified expression on his client's face.
David Brent: Life on the Road premiered in the U.K. last year to lukewarm reviews. The Telegraph liked it quite a bit, praising "the same mix of uproarious failure and sledgehammer pathos that Brent at his best was always all about," while Empire reports that "in the end, it mostly feels like a faint photocopy of what we've seen before." What everyone seems to agree on is that after all these years, David Brent still fits Ricky Gervais like a glove. Your appreciation of the movie, then, will probably depend on how well you think that schtick has aged.David Brent: Life on the Road hits Netflix February 10.
Directed, written by and starring Ricky Gervais, "DAVID BRENT: LIFE ON THE ROAD" is a feature length film which sees a documentary crew catching up with David Brent twelve years on from the mockumentary 'The Office'. Brent is now a travelling salesman, chasing his dream of rock stardom by self-financing a UK tour with his band, 'Foregone Conclusion'.