Tupac Shakur Biopic 'All Eyez On Me' Gets Summer Release Date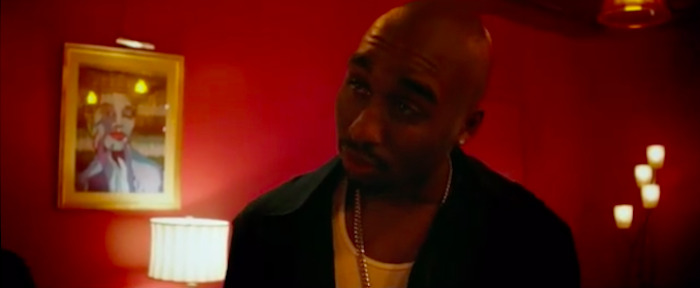 It took a while for Morgan Creek to get the ball rolling on that Tupac Shakur biopic, but as of now we're just a few months away from finally seeing it in theaters. Lionsgate's Summit Entertainment has scooped up the rights to All Eyez on Me and set it for a summer release. 
Summit announced this week that All Eyez on Me will open wide on June 16, 2017, which would have been Shakur's 46th birthday. Also opening that weekend are Pixar's Cars 3, Scarlett Johansson's Rock That Body, and Colin Trevorrow's The Book of Henry. Those should make for some stiff competition, but it's nice to see that grown-ups will have a few more interesting options while their kids are off at Cars 3.
Benny Boom directed All Eyez on Me, which stars relative newcomer Demetrius Shipp Jr. as the late rapper, who achieved fame and acclaim in the 1990s as a musician, actor, and activist. He was gunned down in 1996 at just 25 years old, but his legacy still looms large. Later this year, he'll be inducted into the Rock and Roll Hall of Fame. As we saw in the first teaser released last year, the film will cover his beginnings, his metoric career rise, and his run-ins with the law.
Morgan Creek first announced plans to make the Tupac Shakur biopic in 2011, but the project has been plagued by creative differences, casting troubles, and even legal troubles. Originally, Antoine Fuqua was going to direct, but after he dropped out he was replaced by John Singleton and then Carl Franklin, each of whom also dropped out in turn. In 2015, with the clock running out on the music rights, Morgan Creek finally set Boom to direct and shooting got underway late that year.
Also starring in All Eyez on Me are Danai Gurira as his mother Afeni Shakur, Jamal Woolard as the Notorious B.I.G., Kat Graham as Jada Pinkett, and Dominic Santana as Suge Knight, as well as Keith Robinson, Lauren Cohan, and Hill Harper. James G. Robinson and David Robinson of Morgan Creek produced the picture with LT Hutton of Program Pictures.