'Guardians Of The Galaxy Vol. 2' Toys Reveal Our First Look At Kurt Russell's Ego The Living Planet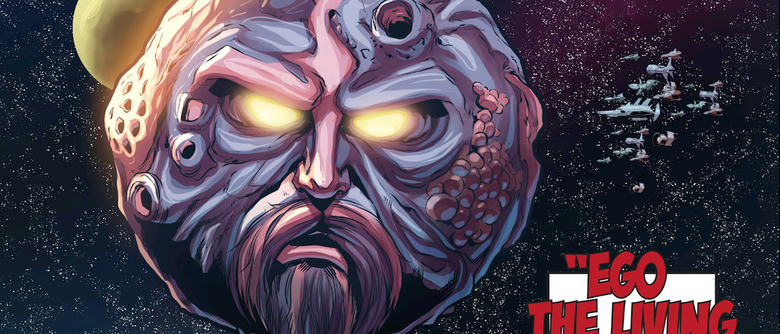 Funko is at it again, and by "it" we mean "offering first looks at new Guardians of the Galaxy Vol. 2 characters that the official trailers have yet to reveal." Last week it was Elizabeth Debicki's Ayesha, who showed up as a Pint Size Heroes figure, and today it's Kurt Russell's Ego the Living Planet, who gets a Dorbz figure and a Pop! figure. Find out what he'll look like in Guardians of the Galaxy Vol. 2 below. 
In the comics, Ego the Living Planet looks basically like, well, a planet. You can see his more traditional form in the header image above. But Guardians of the Galaxy Vol. 2 footage screened at Comic-Con revealed the film's version of Ego would look like Kurt Russell. The character did not make it into the publicly revealed trailer, so these Funko toys are our best look yet at him.
Although this Ego takes a human form, the footage screened at Comic-Con made it very clear that he is not actually human. In the scene we saw, Ego descends on a planet in an ovoid ship to meet the Guardians. He comments that he's been searching for Star-Lord for a while, and confirms that he's his biological father. He then explains that his body was something he made for himself. "I create what I imagined biological life would be like, down to the most minute detail," he says.
While Ego seemed full of swagger in that scene, director James Gunn has hinted that the character might have some hidden depths:
Ego seemed, in many ways, like an even more ridiculous character [than Rocket]. But I asked myself, if a planet was alive, how could that be? And how could it father a child?
The answers to those questions took me to a far deeper place that I expected. I don't want to give away too many answers at this time. But what Nova Prime said about Peter's father at the end of Vol. 1 is certainly true – he is something ancient and unknown. And, as we will discover, being a cosmic being, alone for eons, is perhaps even more lonely than being the universe's sole talking raccoon.
I can't wait for you guys to see Kurt Russell bring this character to life onscreen. It has been a rapturous experience creating Ego with him. We have both pushed ourselves as far as we can go in making him real, and grounded, and emotionally centered.
Guardians of the Galaxy Vol. 2 is in theaters May 5.
Set to the backdrop of 'Awesome Mixtape #2,' Marvel's Guardians of the Galaxy Vol. 2 continues the team's adventures as they traverse the outer reaches of the cosmos. The Guardians must fight to keep their newfound family together as they unravel the mysteries of Peter Quill's true parentage. Old foes become new allies and fan-favorite characters from the classic comics will come to our heroes' aid as the Marvel cinematic universe continues to expand.