'Girlfriend's Day' Trailer: Bob Odenkirk Finds Love And Murder On Netflix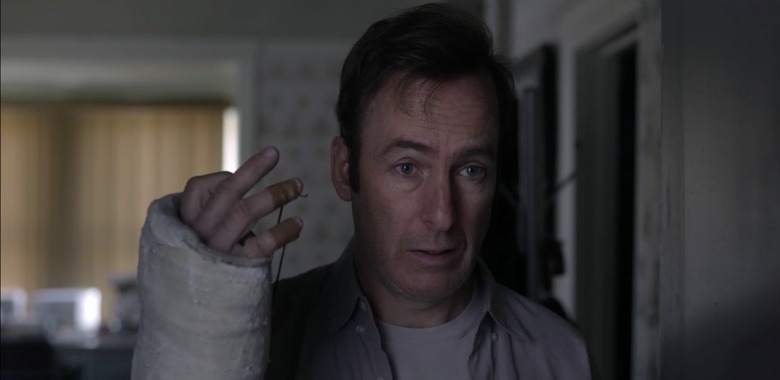 Greeting card writers don't get a whole lot of movies made about them, but maybe they should. Between (500) Days of Summer and now Girlfriend's Day, I'm starting to suspect their lives are actually super exciting.
Directed by Michael Paul Stephenson, Girlfriend's Day stars Bob Odenkirk as Ray, the former "Bill Shakespeare of romance cards," who finds himself stuck in a miserable rut. When a politician establishes a new holiday called "Girlfriend's Day," and announces a contest for the most romantic card, Ray decides to put himself out there... and soon finds himself tangled in a web of conspiracy and intrigue. Watch the Girlfriend's Day trailer below. 
As one character remarks, "this just keeps getting weirder." I started out assuming Girlfriend's Day was going to be a sort of downbeat romantic dramedy, and then it started to look like a sad-sack drama about a guy trying to get his mojo back... and then it turns into some kind of offbeat noir mystery, with Ray scrambling to find out who's really behind a murder he witnessed. Girlfriend's Day has romance, it has comedy, it has a healthy dose of violence, and it's got a rich supporting cast that includes Amber Tamblyn, Natasha Lyonne, Ed Begley Jr., Stacy Keach, Rich Sommer, June Diane Raphael, Andy Richter, Stephanie Courtney, Toby Huss, Stephen Michael Quezada, Derek Waters, and Echo Kellum.
If that sounds like your jam, Girlfriend's Day premieres February 14 – Valentine's Day — on Netflix, for all of you who feel deeply skeptical about that entire holiday.
Roses are Red,
Violets are Blue,
Write a card too clever,
And someone might kill you!
Ever wonder who penned the perfect words to the Mother's Day card you sent last year? Or the hilarious birthday card you gave your best friend? A master of words, that's who.
In the Netflix original film, Girlfriend's Day, director Michael Paul Stephenson (The American Scream) invites you to experience a clever and quirky story about love, loss and the worst place to get a paper cut. Meet Ray Wentworth (Bob Odenkirk), once a king of the wordsmith world, and now a down-on-his-luck romance card writer. In an effort to recapture the feelings that once made him the greatest, he gets entangled in a web of murder and deceit as writers vie to create the perfect card for a newly crowned holiday: Girlfriend's Day.