'Fantastic Beasts 2': Zoë Kravitz Teases Newt And Leta's "Complex" Relationship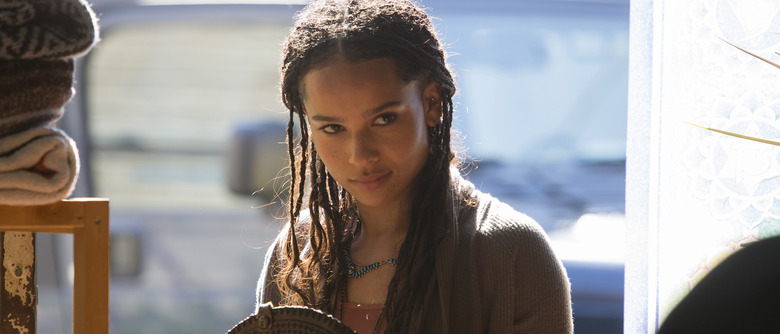 Zoë Kravitz had a blink-and-you'll-miss-it cameo as Leta Lestrange in Fantastic Beasts and Where to Find Them, but as you've probably guessed, she'll have a far bigger role in the sequels. In a recent interview, the actor discussed her character's "complex" relationship with Newt Scamander, talking up how "excited" she is to come back for more. 
The first Fantastic Beasts revealed that Newt Scamander had been in a close relationship with Leta while at Hogwarts. It's implied that they had a very painful breakup, presumably because, as Queenie (Alison Sudol) puts it, Leta is a "taker."
The film also suggested Newt and Leta aren't exactly in close contact anymore, but director David Yates has confirmed she'll come into play in Fantastic Beasts 2. "She's quite complicated and damaged and confused and Newt is absolutely still in love with her, so she has a kind of power over him," he said. "She's a kind of tragic figure, so we will see a bit more of her in the second movie."
And maybe not just the second movie. Speaking recently to Collider, Kravitz hinted that Leta could stick around for multiple sequels:
I think there's a few ahead. The relationship between Leta and Newt Scamander is a complex relationship, so I think there will be a lot of time for that to grow and develop, which will be fun.
But at this point, she confessed, even she's in the dark about where things are going for Leta and Newt:
I know nothing! I have an idea, based off of when I auditioned, but I know nothing. Even when I went to go do my chemistry read with Eddie, he was trying to help me piece together what was happening in the scene that we were reading. He doesn't get to see anything either, so he was like, 'I think based off of this line and this line, and what we shot here and here, this is what's going on.' We had to guess. It was funny to watch him, trying to piece it all together.
One thing Kravitz does know, however, is how excited she is to shoot Fantastic Beasts 2 this summer:
No, that starts in June or July, I think. It's sometime in the summer. I'm very excited. The one day I was on set for that, and also for my audition process, being able to work with Eddie [Redmayne] and David [Yates] was incredible. The script was very under wraps, so even signing onto it, I hadn't read the script. I just went off of who was involved, and J.K. Rowling and the Harry Potter films, so I knew it was going to be incredible, especially with how involved J.K. is. And then, I got to see the film, after I was already signed on, and it exceeded my expectations. That was a really interesting experience, to sit back and watch a movie that you loved, and then get to walk out and say, 'I get to be in that!' It's a very cool thing.
Previously, Yates has hinted that Fantastic Beasts 2 will have a strong "romantic element" to it, so could Leta's return spark a love triangle between Leta, Newt, and Tina? Or might this be an opportunity to learn more about the Lestranges, the pureblood wizarding clan that also includes notorious Death Eater Bellatrix Lestrange? (Well — technically, she's a Black who married into that family, but still.) We'll find out when Fantastic Beasts 2 arrives November 16, 2018.