Cool Stuff: Moana, Trick 'R Treat, Jaws, Star Wars, Lost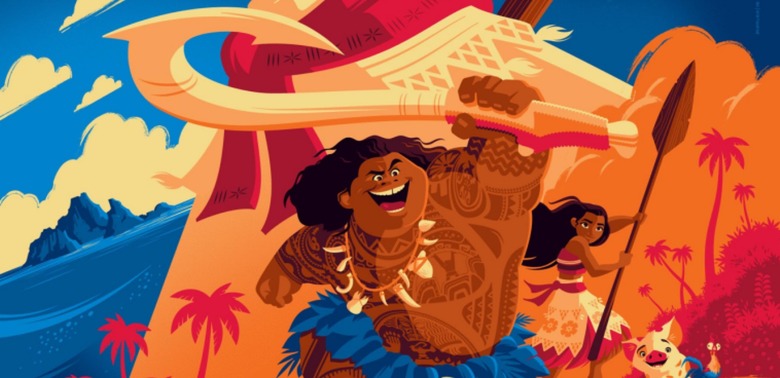 In today's edition of Cool Stuff, we premiere Tom Whalen's stunning Moana screenprint variant, a screenprint tribute to The Princess and the Frog from a Pixar artist, a look at some of Fantasy Flight Games' new figure expansions for Imperial Assault that bring some of our favorite characters from the Star Wars comics and Star Wars Rebels to the tabletop, a new six inch vinyl Sam figure from the Halloween cult classic Trick r' Treat, a JAWS-inspire bath bomb that will turn your bath tub red, and finally Funko has made POP figures for the characters from the television series Lost, but why are they so disappointing? Hit the jump to dive in!
Cyclops Print Works will be releasing a variant of Tom Whalen's beautiful Moana screenprint to coincide with the theatrical release of Moana: Sing-Along Edition (which premieres at the El Capitan on January 20th, and select theaters on January 27th 2017). I have the regular version of this print hanging on my wall right now. Cyclops will also be releasing The Princess and the Frog serigraphs from their recent Musker & Clements show by Pixar artist Josh Holtsclaw.
Cyclops Print Works Print #49V: Moana Variant Dawn Edition by Tom Whalen is a Hand-Numbered Limited-edition of 125. 12 Color serigraph w/ metallic inks screenprinted on 24"x36" paper.
The Princess and the Frog by Josh Holtsclaw comes in a regular version (orange), Hand-Numbered Limited-edition of 150, and a Varient edition (green), Hand-Numbered Limited-edition of 50. Both are 8 Color serigraph printed on 24"x36" paper.
All prints will be available on January 20th 2017 at noon pacific time at www.cyclopsprintworks.com.
New Imperial Assault Figures Bring Rebels and Star Wars Comics To The Tabletop
If you're not playing Fantasy Flight Games' Star Wars Imperial Assault board game, than you are missing out. The dungeon crawl board game has had a bunch of expansions based mostly on the original trilogy movies and now they are starting to dip into the new expanded universe of Star Wars Rebels and the Star Wars comics published by Marvel. Among the new arrivals are BT-1 and 0-0-0, the villain versions of R2-D2 and C-3PO from the comics and Hera Syndulla and Chopper from Star Wars Rebels.
First introduced in the Darth Vader comics, BT-1 and 0-0-0 serve the interests of the Galactic Empire with a special relish for destruction. 0-0-0 is a protocol droid specially equipped to interrogate and eliminate captives, while BT-1 possesses enough hidden firepower to destroy an entire squad of enemy soldiers. With their unique skills, you'll be able to field these two droids in any Imperial strike team with the release of the BT-1 and 0-0-0 Villain Pack.No matter where your Imperial Assault campaigns take you in the Star Wars galaxy, the Rebel heroes will have reason to fear to glowing red displays of BT-1 and 0-0-0. A new campaign Agenda mission challenges the heroes to rescue prisoners from an Imperial interrogation facility on Kessel—but if you fail to rescue the captives, you'll face BT-1 and 0-0-0 as villains throughout the rest of your campaign.
Hera Syndulla and her loyal astromech C1-10P are stoking the fires of resistance in a galaxy that's choking under the heel of the Empire. With the Hera Syndulla and C1-10P Ally Pack, you can bring the will to rebel into your games of Imperial Assault. In your campaigns, Hera may lead you to Tatooine in a desperate attempt to rescue Chopper from Imperial imprisonment. In any mission, Hera can quickly prove herself as an adept leader, calling the shots to keep your entire strike team on point. Chopper is also more than capable of handling himself in battle, using a variety of tricks and tools to knock your enemies back and keep you on top of any engagement.
Both figure expansions will hit stores in the second quarter of 2017.
Trick 'R Treat Stylized 6" Sam Vinyl Figure From Mezco
Trick 'r Treat is one of my favorite Halloween films, and thankfully the movie has found a cult status on home video after being dumped theatrically by Warner Bros. Mezco is releasing a new six inch figure of Sam, the enforcer of the rules of Halloween. Part pumpkin, part supernatural being, Sam shows no mercy to those who disrespect his holiday.
This Sam is presented in our signature super-deformed style. He may look child-like and dressed for trick-or-treating, but Sam is the personification of Halloween itself. He stands nearly 6" tall and features 5 points of articulation. He comes complete with his ever-present trick-or -treat sack, and his half-eaten translucent pumpkin lollipop. Sam is packaged in a specially die-cut window box suitable for display. Just remember, he can watch you from inside the box, so don't blow out your pumpkin until midnight.
You can preorder Sam now on the Mezco website for $23.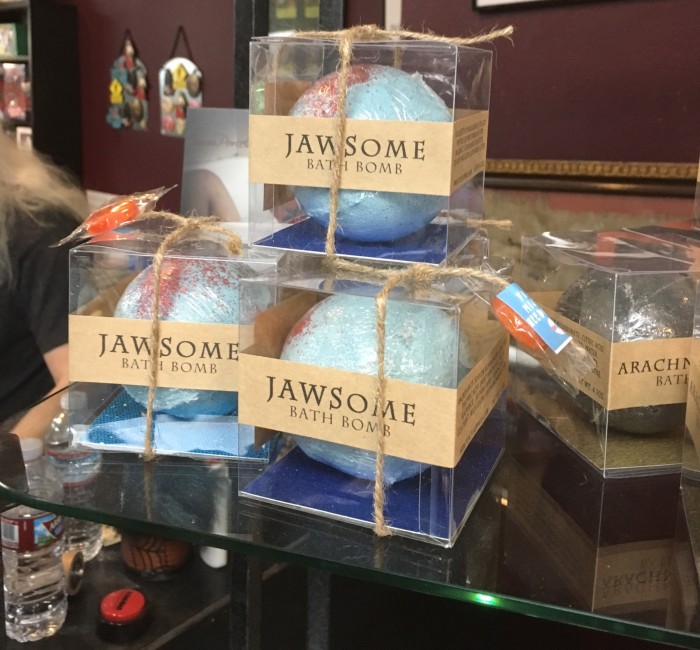 Jaws Bath Bomb
Porcelain Wolf have created a line of bath bombs based on horror films. The Jaws bath bomb has been virally spreading around the internet this past week.
You might need a bigger bathtub for JAWSome.This unique bath bomb, will leave your water red, much like a blood bath. Simply fill your bath to desired temperature, drop in JAWSome, & HORRORay you Enjoy! Rinse tub after use. JAWSome Bath Bomb fragrant is Lathyrus Odoratus Beach Breeze. An Ocean-type scent, flower with a "white" scent & a light Melon & Cantaloupe, with a slight hint of Lilac. When you drop this fragrant bomb into your tub, as it dissolves there's a Glitter Blood red center! Watch in your tub as it unravels to a shark attack blood bath. This bomb was created by a pair of Ghouls & handmade in Los Angeles, California.
You can buy the JAWSome bath bomb on the Porcelain Wolf webshop for $9. Image above thanks to Blumhouse.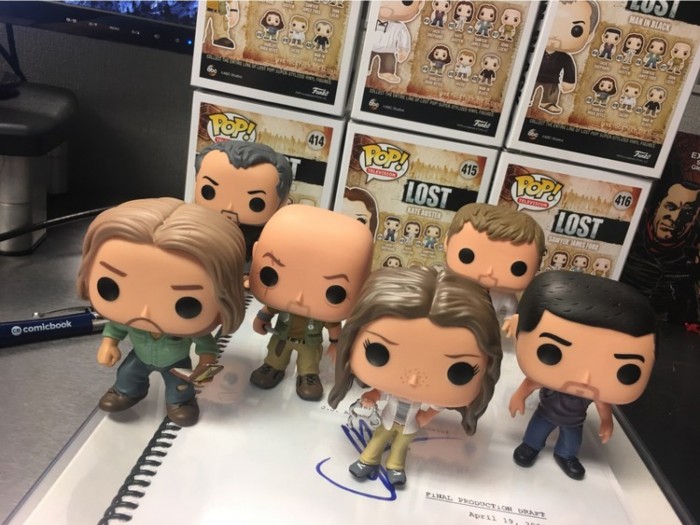 Lost Funko Pop Figures
I was really debating on if I should include these figures in Cool Stuff. On one hand, we're huge fans of the television show Lost and generally find Funko Pop figures to be cute. So for Funko to release Pop figures based on the characters in Lost, we should be excited. But unfortunately, the result is pretty disappointing. The image above comes from an official reveal on ComicBook.com.