Theme Park Bits: 'Race Through New York' Opening Soon, Disney's Newest Water Ride, And Star Wars Land Updates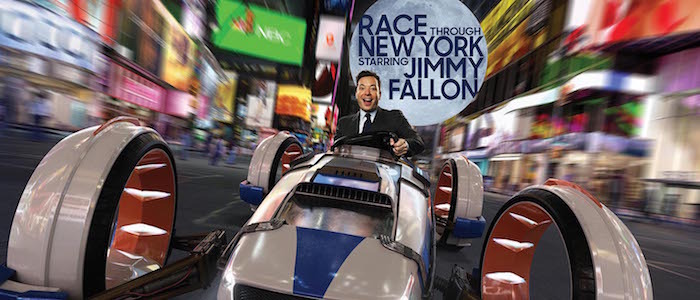 In this edition of Theme Park Bits:
Universal Studios' Race Through New York Starring Jimmy Fallon will open in April.
Walt Disney World's newest water ride has a new name and opening date.
The Iron Man Experience ride has officially opened in Hong Kong Disneyland.
Knott's Berry Farm is planning to auction off hundreds of items from its history.
New photos show off the construction progress of Star Wars Land in Disneyland.
LEGOLAND's new Ninjago ride has opened.
SeaWorld is building a new roller coaster for 2018.
And more!
Jimmy Fallon himself has announced that Universal Studios' Race Through New York Starring Jimmy Fallon will open in their Florida park on April 6, 2017. He also unveiled a bunch of new details about the ride: the story will involve Fallon challenging his guests to a go-kart race through New York City, which will involve a high speed chase through the city streets (hitting all of the various landmarks along the way) and will somehow culminate with everyone on the moon. It's a 3D simulator attraction involving an IMAX-sized screen, with various "4D" effects (like the smell of pizza, gusts of wind, and splashes of water) also involved.
The Universal parks blog also revealed that the ride will be their first to feature a new "virtual line" system, where you can wait in a digital line and enjoy the rest of the park before retuning later:
"Race Through New York Starring Jimmy Fallon" will be the first attraction to feature a Virtual Line experience at Universal Studios Florida.
You'll be able to access this new system through The Official Universal Orlando Resort App or at kiosks located outside the attraction entrance. This allows you to virtually wait in line while still enjoying the rest of Universal Studios. When it's your time, just head back to the attraction, head inside, and get ready for the race of a lifetime.
Naturally, the opening of the ride will kick off with a few on-site tapings of The Tonight Show.
Florida's LEGOLAND has official opened its newest land, NINJAGO WORLD and footage of its main attraction, LEGO NINJAGO: The Ride has arrived online. Like Toy Story Midway Mania at Disneyland and Walt Disney World, this is a family attraction where you can interact with 3D screens while you ride.
Sea World San Diego has announced a new attraction coming to the park in 2018. The Electric Eel roller coaster looks to combine stomach-churning thrills and lessons about one of the ocean's stranger predators in one package. Here's how they're describing it:
With Electric Eel, SeaWorld's Deep Blue creative design team will fuse the visceral thrills of a contemporary coaster with a compelling interactive and educational eel experience. Using innovative state-of-the-art technologies, this interactive experience will allow guests to discover fascinating information about these mysterious animals, including their unique predation skills and diets, growth rates and sensory abilities.
Knott's Berry Farm has announced a new auction arriving this Spring that will give you a chance to own a piece of theme park history. Here's the basic gist:
More than 300 one-of-a-kind items from America's first theme park will be available at a special auction to be held in the Charles M. Schulz theatre at Knott's Berry Farm.
Don't miss this once-in-a-lifetime opportunity to own historic artifacts from Ghost Town, Camp Snoopy, the famous Mrs. Knott's Chicken Dinner Restaurant, theme park rides, Knott's Scary Farm, and the Walter Knott Archives. Historic signs, antiques, important theme park vehicles, player pianos, vintage coin operated machines, photographs and much more will all be part of this collection offered for the first time.
Any other questions you have can be answered at the link above.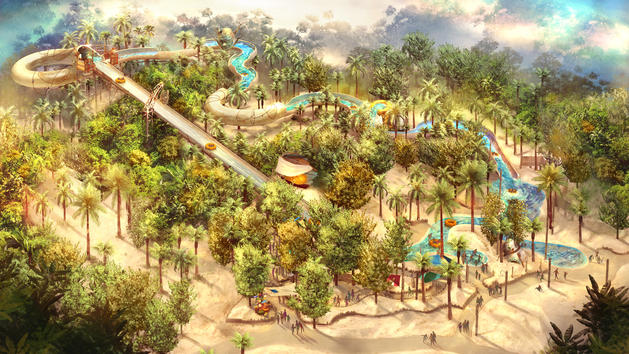 With Universal set to open the brand new Volcano Bay waterpark this year, it makes sense that Disney has been giving a little TLC to its own waterparks. A little while back, we learned that Typhoon Lagoon would be getting a new attraction called Miss Fortune Falls. Now, this water ride has a new title, Miss Adventure Falls (implying a wacky event instead of possible tragedy!), will be the longest attraction at any Disney water park, and will apparently open in March.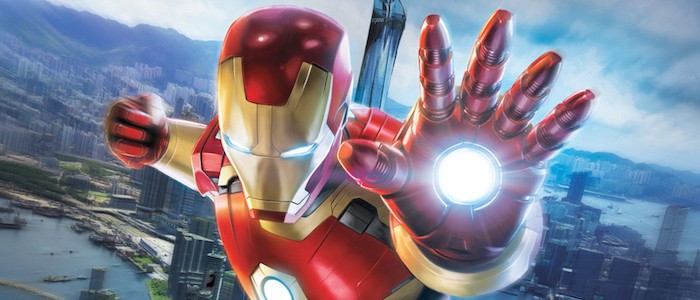 Meanwhile, the Iron Man Experience has officially opened its doors over at Hong Kong Disneyland, making it the first full-fledged Disney theme park to take advantage of the Marvel comic book universe. Chairman of Walt Disney Parks and Resorts Bob Chapek said the following at the ride's official unveiling:
We are always pushing the boundaries of creativity and innovation so that our guests can step into the magical worlds of their favorite stories and meet their most beloved characters. We're thrilled to be adding the high-tech, action-packed universe of Marvel to Hong Kong Disneyland, and we'll continue building on it as we move into the next phase of expansion.
Iron Man Experience has been in soft opening for a few weeks now and if you want to get a taste of what this 3D simulator attraction is like, you can watch the video below.
While the prices for season passes at Disney parks continues to skyrocket on an annual basis, pass holders at Walt Disney World now get a new perk: exclusive park entrances that only they can use, allowing them to skip the (surely much longer) main entrance line. And while we're talking about updates, Walt Disney World is officially ending its private cabana rental program, which allowed people with lots of disposable income to rent a private tent in the middle of The Magic Kingdom's Tomorrowland.
The official Disney parks blog has announced the return of the Disney California Adventure Food & Wine Festival, which will begin on March 10 and run through April 14:
Each day, guests are invited to celebrate some of the best of delicious California cuisine throughout Disney California Adventure park. There will be even more Festival Marketplaces to enjoy this year, plus enhanced Festival-inspired menus at existing restaurants and eateries, where guests can sip and savor delicious flavors from across the Golden State. Guests will enjoy culinary experiences created for the whole family, including a variety of food, beverage and lifestyle seminars, demonstrations and presentations.
While I haven't attended this particular festival, its East Coast counterpart at Epcot tends to be a great way to explore the Disney parks while feeling a little too full and a little too drunk.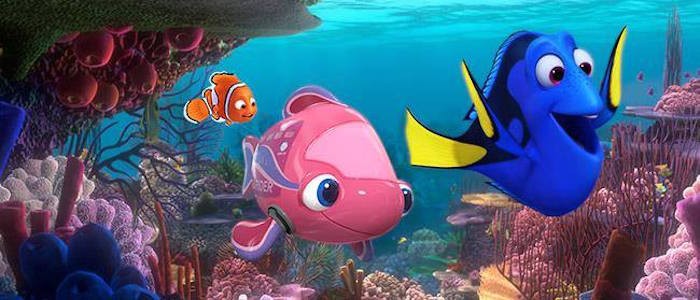 Disney and More has posted a complete list of every new ride, show, and event coming to Tokyo Disneyland and Tokyo DisneySea over the next year, which includes special events based on Frozen, Pirates of the Caribbean, and Pixar characters. Of course, the biggest new addition is the Nemo & Friends SeaRider, a simulator attraction themed around the Finding Nemo characters. Here's the basic gist:
This new attraction opening in Port Discovery is themed to the world of the Disney/Pixar films Finding Nemo and Finding Dory. This indoor attraction will immerse Guests in the underwater

 

world of these popular stories by using a ride system that seamlessly blends new visuals with a dynamic motion-base system. Boarding a submersible that "shrinks" to the size of a fish, Guests can explore the wondrous world of marine life from the same point of view as Nemo and Dory.
Nemo & Friends SeaRider is set to open on May 12, 2017.
Speaking of Tokyo Disneyland, the "Anna and Elsa Frozen Fantasy" event has begun and footage of the park's Frozen Forever nighttime show has arrived online.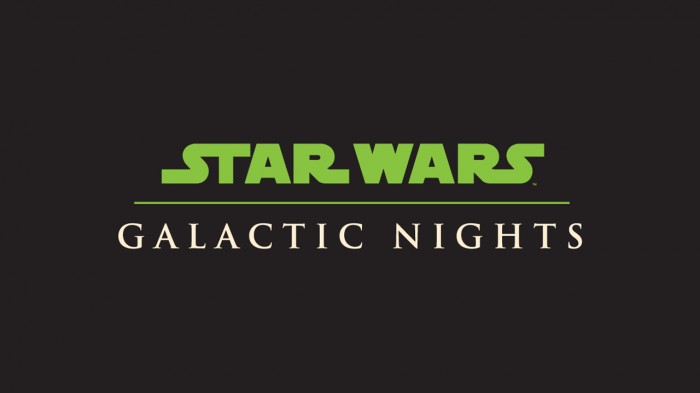 With this year's Star Wars Celebration taking place in Orlando, Florida, it was a given that Walt Disney World would take advantage of the number of Star Wars fans in town with a special event. And that special event is Star Wars: Galactic Nights, which will be hosted by the Hollywood Studios park on April 14 (smack dab in the middle of the Star Wars Celebration schedule). Here's what's on the schedule:
Rebel Base Activities – The Rebel Base will serve as the event hub with multiple events, hosted shows, Star Wars dance parties and more taking place in the center of the park.
Watch "Inside the Saga: Celebrity Chat Show" – Catch a celebrity chat show in Epic Theater to learn more about the making of Star Wars films.
Can't miss Star Wars photo ops – Don your Star Wars finest and enjoy iconic Star Wars backdrops, including Han Solo cast in carbonite, Jabba the Hutt's Palace, the Hoth Wampa Cave and more.
Galactic Nights Stars in Cars Motorcade – This procession will welcome in Star Warscelebrities down Hollywood Blvd.
Imperial March & March of the First Order – Get your cameras ready for the arrival of the dark side. Darth Vader will lead a battalion of stormtroopers on a dramatic march down Hollywood Blvd to the Event Stage. Captain Phasma will also lead a unit of First Order stormtroopers through the park, pausing to give a demonstration of power and strength.
Seize the Saga Interactive Scavenger Hunt – Event Guests are challenged to collect Star Wars themed pieces at the photo backdrops throughout the park, revealing a surprise when all items have been collected.
"Star Wars: A Galaxy Far, Far Away" – Watch high-energy clips of the best moments from the film saga juxtaposed with character moments on stage, featuring Chewbacca, Darth Vader, Kylo Ren and more.
"Star Wars: A Galactic Spectacular" – The skies will come alive with the power of the Force, as the park's popular Star Wars-themed nighttime spectacular lights up the night.
Naturally, this is a separately ticketed event not included in a normal park admission and will set you back $129 per person. Tickets are on sale right now.
If you need a Star Wars fix right now, Disneyland is still all-in on the Season of the Force event (and probably will be until Star Wars Land opens in a few years). Inside the Magic has footage of new banners that have been installed in the park's Tomorrowland section, many of which feature Rogue One characters like Jyn Erso, Orson Krennic, K-2SO, and Saw Gerrera (every kid's favorite militant guerrilla terrorist).
Meanwhile, the European version of Season of the Force has officially kicked off at Disneyland Paris, with the Star Wars: A Galactic Celebration nighttime show being the chief highlight. You can watch the show for yourself in the video above, which consists of Star Wars imagery being projected on the 199-foot tall Tower of Terror attraction. For more details, Endor Express has a larger look at the overall event and how it came together.
Star Wars Land progress as of Friday Jan 12th. Should go vertical by summer. pic.twitter.com/a09z0aQyzC

— Attractions 360° (@SoCal360) January 13, 2017
Meanwhile, it's full steam ahead on construction over at Disneyland's Star Wars Land.
@slashfilm Star Wars land construction from hungry bear restaurant pic.twitter.com/MoNWxhuMGr

— Josh Ernstrom (@joshernstrom) January 13, 2017
And because Disney and Star Wars are inseparable these days, Star Wars Day at Sea is returning to the Disney cruise line in 2018. Here's how the official park blog describes this event, which is held on board the Disney Fantasy ship:
The event features a full day of Star Wars celebrations including a deck party spectacular with an extraordinary fireworks display, encounters with the galaxy's most formidable and heroic characters, Star Wars-themed family and youth activities, unique food and beverage offerings and special merchandise.
A fan-organized tribute to Carrie Fisher and Debbie Reynolds, which included a trip to The Great Movie Ride (with its depiction of Singin' in the Rain) to honor Reynolds and a ride on Star Tours to honor Fisher, became something more official when Disney found out and made the whole thing an official tribute. You can watch it above.