'The Wizard Of Lies' Teaser: Robert De Niro Is Bernie Madoff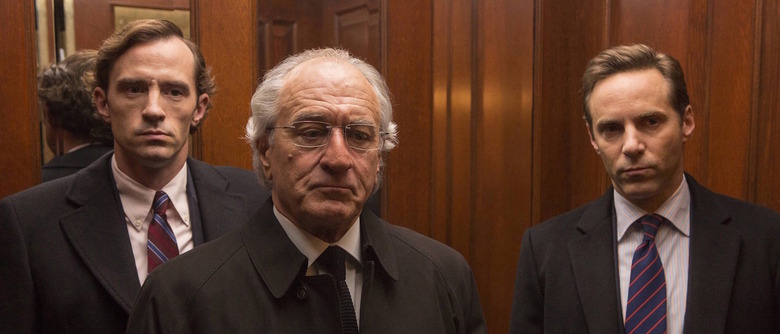 HBO kicked off its winter 2017 programming this past weekend with The Young Pope, but they also took that opportunity to remind you there's even more great stuff coming up on the horizon. Like The Wizard of Lies, the first-ever HBO project starring Robert De Niro. He plays Bernie Madoff, whom you may remember as that investment advisor who was arrested in 2008 for perpetrating one of the biggest Ponzi schemes in history. Michelle Pfeiffer stars as his wife, Ruth Madoff. Watch the Wizard of Lies teaser below.
The Wizard of Lies Teaser
It's a really striking teaser trailer with an almost nightmarish feel to it, and it leaves me curious to see more. If that logo looks familiar, that's probably because it looks very similar to the one for The Big Short. Apparently, Engravers has been deemed the unofficial font of the 2008 financial crisis.
The Wizard of Lies premieres in May on HBO.  Also starring are Hank Azaria, Kristen Connolly, Lily Rabe, Alessandro Nivola, and Nathan Darrow. Barry Levinson directed from a script by Sam Levinson and John Burnham Schwartz and Samuel Baum.
In 2008, stockbroker, investment advisor and financier Bernie Madoff made headlines around the world when he was arrested for perpetrating perhaps the largest financial fraud in U.S. history.
Debuting in May, HBO Films' THE WIZARD OF LIES examines Bernie Madoff's Ponzi scheme – his deception, lies and cover-up, all as the financier's wife and sons are catapulted into a harsh and unrelenting spotlight.
Robert De Niro (Oscar® winner for "Raging Bull" and "The Godfather II") comes to HBO for the first time in the role of family patriarch Bernie Madoff. Also on HBO for the first time, Michelle Pfeiffer (Golden Globe winner for "The Fabulous Baker Boys") stars as Ruth Madoff, Bernie's longtime spouse and unwitting partner during the events that would lead to financial ruin for countless people and institutions, as well as his and his family's destruction.