'Crashing' Trailer: Pete Holmes Couch Surfs Across NYC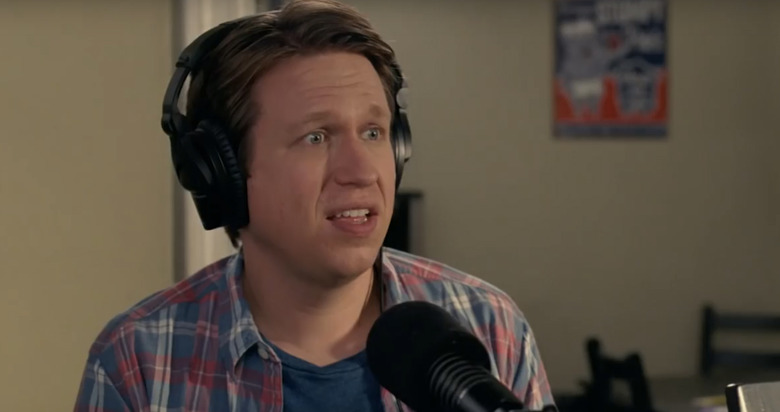 We didn't get a new movie from director Judd Apatow this year, and part of the reason for that is because he's producing a new TV series for HBO as another one is wrapping up. Girls will begin its final season in February, but Judd Apatow will stay comfy at HBO with a new comedy series starring stand-up comedian Pete Holmes.
Crashing follows Pete Holmes playing a version of himself from years ago. The HBO series follows Holmes as an up and coming, naive stand-up comedian in New York City whose seemingly happy life is uprooted when he finds his wife cheating on him. As he tries to get some stage time and recover from his destroyed marriage, he couch surfs across New York City, staying with his various comedian friends played by Holmes' real-life comedian friends who you'll definitely recognize in a new trailer for the show.
Watch the Crashing trailer after the jump.
Holmes explained during HBO's panel at the Television Critics Association winter tour panel that he's playing a regressed version of himself. According to The Hollywood Reporter, Holmes commented on the show's version of himself, "It's not a caricature but it's definitely a different person than I am right now."
When it comes to comedians like Sarah Silverman, T.J. Miller, Artie Lange, Dave Attell, Hannibal Buress, Jim Norton and more, they're all playing themselves for the most part. Though Judd Apatow, who directs the pilot episode in addition to executive producing the show, explains that some of the lesser known stand-up comics appearing in the show play more of a character than the aforementioned marquee names.
As a big fan of Pete Holmes, including his very personal, intimate podcast You Made It Weird (which recounts plenty of the details and stories that will be told in this series), I can't wait to see this show on HBO. Holmes is such a bright talent in comedy with an enthusiastic spirit that never wanes. With Apatow helping him along for his first narrative series, this will hopefully be a new comedy staple in HBO's programming line-up.
After discovering his wife, Jessica, in a compromising position with another man, aspiring but unworldly stand-up comedian Pete flees to the New York comedy scene, where he crashes on other people's couches, in the process learning hard lessons about life and himself.
Crashing debuts on HBO next month on February 19 at 10:30pm ET.