Interview: 'Logan' Director James Mangold On Making A Comic Book Movie For Adults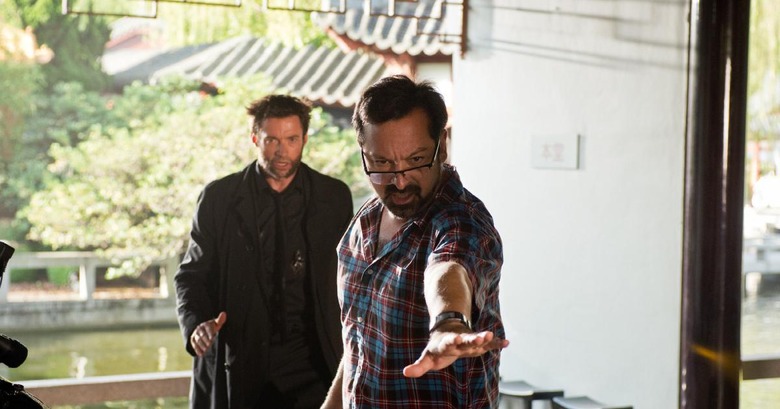 James Mangold's Logan is already looking like one of the most promising superhero movies of 2017, and that's really saying something in a year that also brings Spider-Man: Homecoming, Justice League, and so many others. The day after 20th Century Fox screened the first act of the movie, I had the chance to sit down with Mangold. He discussed how "exciting" it was to make a comic book movie for adults, what it was like to shoot Hugh Jackman's very last scene as Wolverine, what makes Logan original, and more.
Watch our James Mangold interview below. 
It's not that we thought Wolverine was really pulling his punches before, but Logan really doesn't hold back. There's just no need to. Not only is it Jackman's last-ever outing as the mutant superhero, it's also the first R-rated Wolverine movie. Violence, curse words, life-changing transformations, or even deaths — they're all fair game. And judging by the first 30 or so minutes we saw last month, Mangold and his team take full advantage of that fact. I asked Mangold if it was a liberating experience. He responded:
Well, it was exciting. What was inspiring, and what we really set out to do more than anything about specific ratings, was just to make an adult film. For me, the rating and the violence level was part of it. But also just raising the maturity level of the film. You know, a lot of these films are essentially made for both 12-year-olds and 20-year-olds, and I thought it would be interesting, even if we got less money to do it, to make one of these films, a comic book film, essentially, that's for adults.
Logan plays very much like a Western, and less like your typical PG-13 four-quadrant blockbuster. But, Mangold pointed out, there's no reason grown-up Westerns and comic book movies have to be mutually exclusive:
Comic book movies don't have an identity. There's many kinds. There's Avengers, there's movies like Guardians, there's movies like Deadpool, there's movies as somber as the Dark Knight series. The word "comic book movie" doesn't define the movie. It's up to us to bring a kind of genre and a sense of tone. I think that's what, hopefully, makes Logan original, is that we've staked out a new tone, and something you haven't seen.
Adding an extra layer of poignancy to Logan is the fact that it's Jackman's last time brandishing the claws, after nine movies (including Logan) and 17 years. Mangold spoke a bit about the experience of shooting Jackman's final scene as the character:
To be honest, when we did that — I'm trying to remember the day we did that — we were racing daylight, we were losing daylight. So it all kind of happened and then suddenly, as we finished the shot, I announced it, because I realized that it happened. But the reality is that you can't be aware of it or it gets in the way of doing the work. But it is powerful. It's amazing. Because you know, he's been doing this longer than anyone who's been playing James Bond. I think he's the longest-running character, actor in a single character, ever.
While Jackman apparently has no plans to return (well, never say never), Mangold's future with the franchise sounds more open-ended. When I asked if he might direct another X-Men movie, he responded, "I have no idea what the future holds. But I certainly am looking forward to doing a different kind of film since I've done two Wolverine movies back to back."
Watch my full conversation with Mangold below. Logan is in theaters March 3, 2017.
Logan - James Mangold Interview
0:00: Was it a relief not to hold back?
0:42: Shooting Hugh Jackman's last scene as Wolverine.
1:27: Casting X-23 actress Dafne Keen.
2:35: Shooting X-23's super-violent action scenes.
3:45: What does the Western genre bring to superhero movies?
5:09: Would James Mangold make another X-Men movie?