'Tangled' Sequel Trailer: Rapunzel's Hair Is Back In A TV Movie For Disney Channel's Animated Series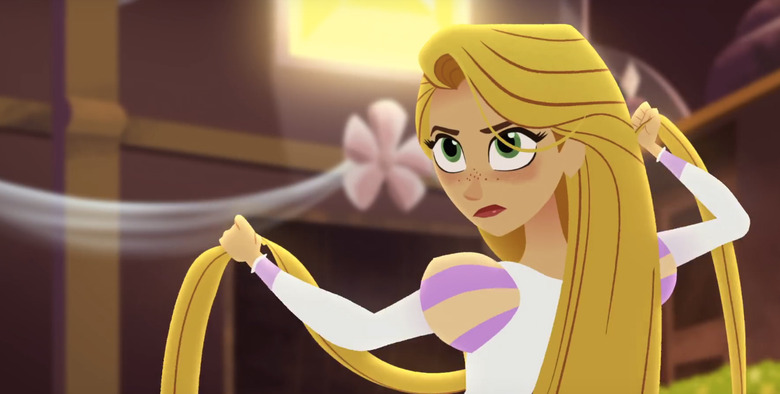 Last fall we got a teaser for The Disney Channel's new Tangled animated series. Instead of being computer animated like the original movie, this is a 2D stylized animated series that takes place after the events of the hit movie from Walt Disney Animation Studios. But before that series begins, it will be preceded by a TV movie, and the first trailer for it has just arrived.
Tangled: Before Ever After has Rapunzel and Eugene back (voiced again by Mandy Moore and Zachary Levi), and while the end of the movie saw the long, flowing blonde hair done away with in favor of a short, brunette style, it looks like that doesn't last long. Some kind of magic gives Rapunzel back her golden locks, but I'm not entirely sure why that's a bad thing.
Watch the Tangled sequel trailer after the jump.
As you can see, the trailer doesn't really explain why everyone seems so worried that Rapunzel's long hair is back. Maybe it has something to do with making an impression on Eugene's parents without having overgrown hair. We'll probably find out in the TV movie, which takes place between the end of Tangled and the 2012 short film Tangled Ever After, serving as a pilot for Tangled: The Series.
In addition to the return of Rapunzel and Eugene, the series is also bringing back Jeffrey Tambor as Big Nose and Paul F. Tompkins as Shorty (aka the Snuggly Duckling Pub Thugs), as well as M.C. Gainey as Captain of the Guards. Beyond those bit players from the movie, the voice cast has grown considerably.
Broadway star Eden Espinosa is playing a new character named Cassandra, Rapunzel's handmaiden and confidant. Then there's also Jeff Ross as Hook Foot (brother of the pub thug Hook Hand), Richard Kind as Uncle Monty, Sean Hayes as Pete the Guard, Peter MacNicol as Nigel the Advisor, Clancy Brown as Rapunzel's father King Frederic, Adewale Akinnuoye-Agbaje as blacksmith Xavier, Diedrich Bader as Stan the Guard, Jeremy Jordan as teen alchemist Varian, Jonathan Banks as Varian's father Quirin, Charles Halford as Pub Thug Vladimir, Steve Blum as Pub Thug Attila Buckethead, and James Monroe Iglehart as Eugene's friend Lance Strongbow.
That's quite an impressive voice cast for an animated series, but Disney has the money to throw around, and fans will certainly appreciate the movie's voice cast being brought back for the show. There was a time when that just wouldn't be possible, but now it's becoming the norm. Plus, the series will have new songs composed by Alan Menken and lyricist Glenn Slater for you to become obsessed with.
Tangled: Before Ever After will debut sometime in March, followed by Tangled: The Series sometime later.