'The Late Late Show's James Corden Joins 'Ocean's 8'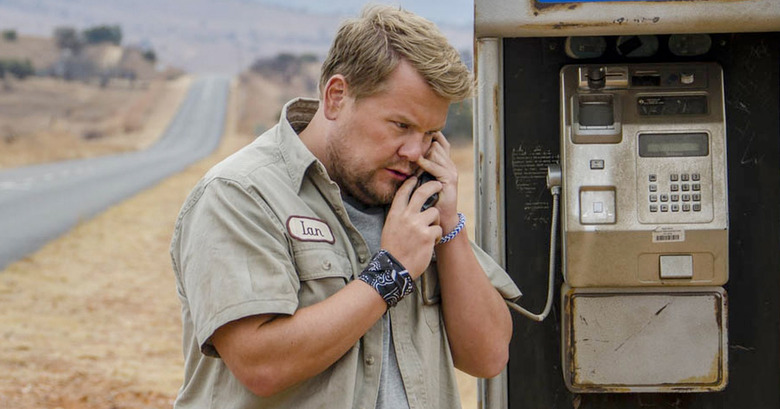 The Late Late Night Show host James Corden has a role in Ocean's 8. The actor and entertainer will play a character suspicious of the eight thieves, played by Cate Blanchett, Sandra Bullock, Mindy Kaling, and Sarah Paulson, to name a few. The cast for director Gary Ross' Ocean's 11 spin-off continues to grow more impressive.
Below, learn more about James Corden's role in the Ocean's 8 cast.
Deadline reports that Corden is co-starring as an insurance investigator in New York who doesn't trust the film's gang. New York City is where they go to pull off a heist at the Met Gala. Leading the Ocean's 8 is Bullock as the sister of Danny Ocean, the cunning, suave, and stylish ringleader played by producer George Clooney in Steven Soderbergh's Ocean's trilogy. There was word Clooney might show up in Ocean's 8, but it's Matt Damon who's returning to his old role, Linus, a character with such a great arc in the trilogy; you realize by the end of Ocean's 13 how much he's changed.Anne Hathaway, Awkwafina (a.k.a. Nora Lum), Rihanna, and Helena Bonham Carter are a part of Bullock's character's team. Many of them have been spotted on set, looking about as cool as Soderbergh's ensemble. Ross' film also co-stars Dakota Fanning and, as the villain, Damian Lewis (Billions). We spoke with Ross last year, and he told us about how the tone of his film compares to Soderbergh's charismatic trilogy:
We're different filmmakers, obviously, so there will be those differences, but one of the things I'm drawn to is the amazing tone Steven was able to create, and we discuss that a lot. We discuss the cinema a lot, the shooting style, the rhythm, the editing style, and the music. We discuss it all. I'm in no way trying to reinvent the tone, and I'm thrilled and honored to be extending it. It's really fun to work with.
Ross and Soderbergh go way back. The Soderbergh-produced Ocean's 8 marks another collaboration between them:
I think it's a pretty similar tone. You know, Steven Soderbergh and I are incredibly close friends, and we would not have done this if we weren't. I don't think he would've wanted anyone to do it if we weren't. This is very much an extension and a continuation. He's a producer on the movie. In one way or another, this has been a 20-year conversation between Steven and I, collaborating in ways the whole world doesn't know about: I helped him on the previous Ocean's Eleven films; he shot second unit on The Hunger Games; I've done ADR lines for him; and he reads all my scripts. It's a very long, ongoing collaboration. This, I think, is a very seamless process.
Ross co-wrote Ocean's 8 with Olivia Milch, who made her directorial debut with Dude, a script of hers that made the 2013 Black List. Principal photography started on the heist film around the end of October. Since the news of Corden's casting is breaking this late, it's possible he doesn't have a huge role to play in the film, but we'll see...in almost a year and a half.
Ocean's 8 opens in theaters June 8th, 2018.