Star Wars Bits: Woody Harrelson Talks Han Solo, More CGI Actors, And Brian Blessed Shares A Jar Jar Binks Anecdote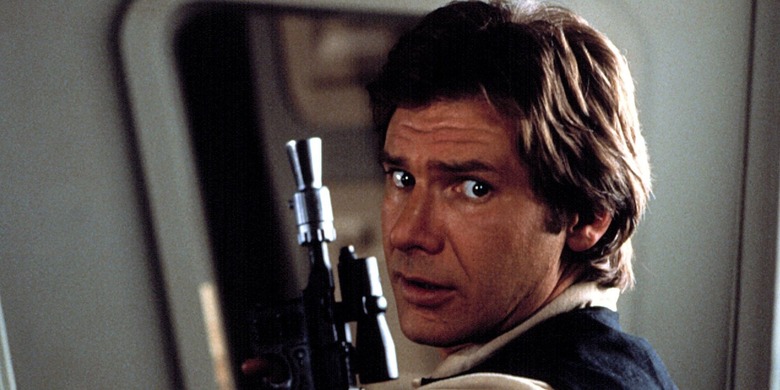 In this edition of Star Wars Bits:
Woody Harrelson thinks it will be pretty cool to mentor Han Solo.
Rogue One: A Star Wars Story picks up seven VES awards nominations.
The actor behind the digitally recreated Grand Moff Tarkin speaks out...
...and could more digitally recreated Star Wars characters be on the way?
One of the Rogue One editors talks about building the final film.
Rogue One writer Gary Whitta shares pictures from the Star Wars: The Force Awakens set.
Brian Blessed has a pretty great Jar Jar Binks story.
And more!
While the Star Wars series has never been a major awards season player, the film industry has typically done a fine job of recognizing the series' contributions to the visual effects realm. Rogue One
has been nominated for seven Visual Effects Society Awards
across six categories. I love just how specific these nominations are:
Outstanding Visual Effects in a Photoreal Feature (Rogue One)
Outstanding Animated Performance in a Photoreal Feature (Grand Moff Tarkin)
Outstanding Created Environment in a Photoreal Feature (Scarif Complex)
Outstanding Virtual Cinematography in a Photoreal Project (Space Battle)
Outstanding Model in a Photoreal or Animated Project (Princess Leia and Star Destroyer)
Outstanding Effects Simulations in a Photoreal Feature (Jedha Destruction)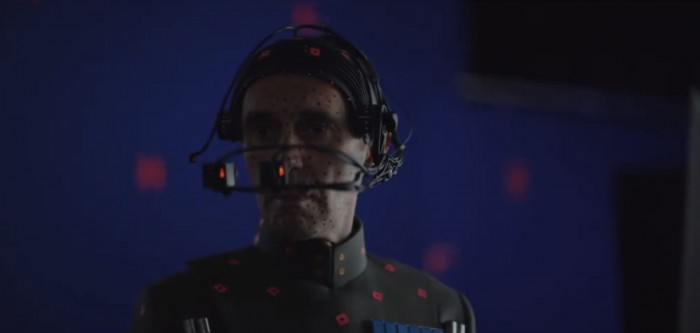 Of course, these visual effects have also been the source of some controversy for how they resurrect Peter Cushing's Grand Moff Tarkin and digitally recreate a young Princess Leia. I'm of two minds about this whole thing (it's really impressive and it makes me really uncomfortable!), but I'm also fascinated by the process. So this
interview with actor Guy Henry, who played Tarkin on set was digitally transformed into Tarkin by ILM, is fascinating. Here's a taste:
I felt I couldn't feel too responsible in the sense of the way that it looked. I had to trust John Knoll and Gareth and the team, who were convinced they could make it work. Vocally, I'm not a mimic. I'm genuinely not an impressionist. I'd be doing my very best to do my Tarkin, the rolled "r" and the voice as best I could, and Gareth would say, "OK relax on that. Just be a bit more Guy now." I had to trust that they saw something in the reel of my work that convinced them it could be the tribute to Cushing everyone wanted it to be. It was very, very frightening, in all seriousness.
And while many fans and critics have wondered if this means we can look toward a future where more dead actors are brought back to digital life, Henry doesn't think that's likely:
I can't really see why they would. Suddenly to make a new film and get James Dean in it? I can't see that's likely to happen. This was very specifically to recreate this character in a way that served the story of Rogue One. Apart from anything else, the work involved in it was enormous. I always felt so sorry for the poor people in Industrial Light & Magic. They had to spend all day and most of the night with me trying to make me look like him. Tony Gilroy, who was the second unit director, said, "God, I've spent a hell of a lot of time listening to your voice." I said, "You poor man. I'm sorry about that." (...) I think and hope it won't be a commonplace thing. I can see when it can be used for a good piece of storytelling, and I'm sure they will consider it. I don't think it's going to be very common.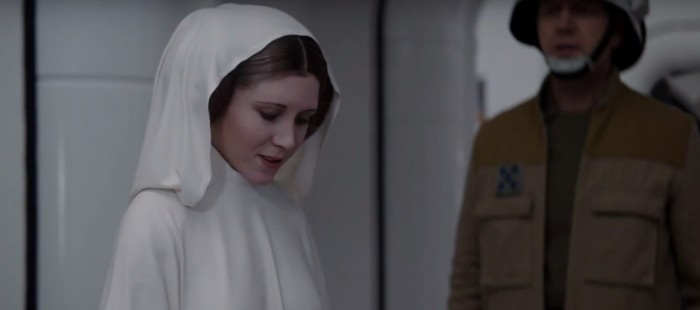 But takes us right the story of Disney negotiating with the late Carrie Fisher's estate to obtain the right use her likeness. The internet's initial knee-jerk reaction to this news was that we'll be getting a digitally recreated Leia Organa in Star Wars: Episode 9, news that turned more than a few stomachs. However, a look at the full quote (via the good folks at
) doesn't confirm anything:
Carrie Fisher died less than a fortnight ago, but in the minds of Disney movie moguls and Star Wars fans, she's very much alive. And with what might be regarded as unseemly haste, Disney is negotiating with the actor's estate over her continued appearance in the franchise. If Disney gets the go-ahead, Carrie Fisher will join Peter Cushing, who, last month, fifteen years after his death, played a key role in Rogue One as Grand Moff Tarkin. With computers, anything is possible, but is it desirable? While some living actors are contracting over the use of their image when they die, others, like Robin Williams, who killed himself in 2014, explicitly banned the commercial use of his image until 2039.
Episode 9 isn't mentioned at all, which means that Disney could be simply looking to obtain permission to continue to use Fisher's likeness in marketing. It's too early to jump to any conclusions quite yet. Meanwhile,
reports that Disney is denying that the negotiations even happened in the first place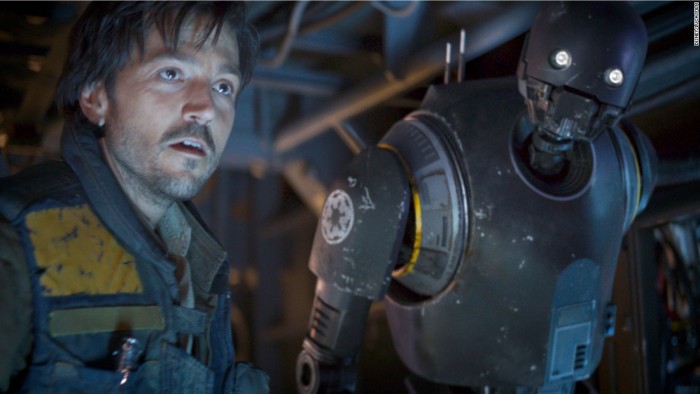 Let's move on to another subject, namely a series of interviews with Rogue Oneeditor John Gilroy, who spoke with several outlets about how he helped assemble the film (he is one of three credited editors on the film). First up, let's take a look at his chat with
, where he addresses all of those trailer shots that didn't make it into the final movie:
I would say a lot of the movie changed. That's the simplest way to put it. I've said we definitely changed things at the beginning, added scenes developing those characters, and that has a ripple effect through the whole movie. So, I know people have been watching and clocking the deleted scenes and saying 'I wonder how that fit in?' but I was mostly concerned with the movie you saw. I was there to put that movie together.
With
, he spoke about walking the fine line of making a Star Wars movie that was little different from any other Star Wars movie:
This movie was supposed to be different than other Star Wars movies. They were trying to push the envelope of what a Star Wars movie could be. And when you do that, you try to walk that line. You want to make it different but you also want to very much make it part of the whole Star Wars saga. So trying to find that balance was the biggest challenge.
And with
, Gilroy explained how the "dark" ending of Rogue One isn't that dark at all:
Most films don't end on a dark ending because usually what happens if you do that is people walk out of the theater and they're glum and that's not what you want. We sidestep that in Rogue One because, first of all, their deaths have so much meaning. It's a very noble self-sacrificing death on their parts. But from there we go to Vader overtaking the ship and having this incredible action sequence, which is earned. Star Wars fans loved that. Without even trying, that sort of changes someone's mindset a little bit. All of a sudden, you moved to what Vader's doing and then finally you're moving to Leia.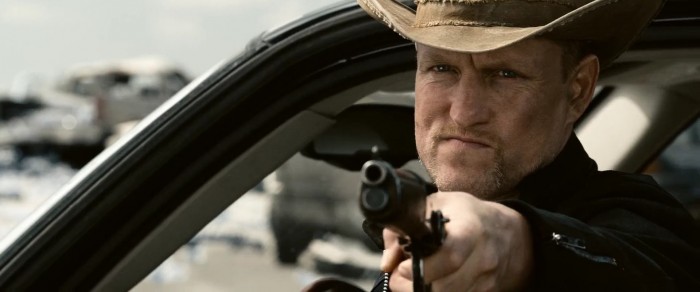 Collider
recently spoke with Woody Harrelson and naturally, his role in the upcoming Han Solo spin-off movie came up. He doesn't say much, but he does once again confirm that he'll be playing young Han's mentor:
I don't think the Force is allowing me to talk about this. They want me to keep pretty mum so I better not say too much about it. They're pretty top secret about the script and the story... It'll be cool to be mentoring Han Solo, that will be cool.
#WaybackWednesday! Unearthed some old pics from Force Awakens set visit wherein Gareth and I got to play on the Millennium Falcon. THE BEST. pic.twitter.com/zRd8idSCqf

— Gary Whitta (@garywhitta) January 11, 2017
Rogue One screenwriter Gary Whitta is one of my favorite people on Twitter and you really should follow him if you like Star Wars and geeky stuff in general. As a bonus, you live vicariously through him as he shares photos of himself hanging out on the set of The Force Awakens with Gareth Edwards.
Sadly Dejarik holo-figures don't show up in photos but I assure you this was a very tense game, which I won. pic.twitter.com/JswaQzSmmu

— Gary Whitta (@garywhitta) January 12, 2017
my personal fave 🤓 pic.twitter.com/Dy4tzaEYW1

— Gary Whitta (@garywhitta) January 12, 2017
Resistance base. #TheForceAwakens pic.twitter.com/1oPc6iIVWR

— Gary Whitta (@garywhitta) January 12, 2017
Oh yeah, I also got to wear Admiral Ackbar's arms. Attempts to walk out of Pinewood still wearing them = unsuccessful. pic.twitter.com/B2S6tRqqTI

— Gary Whitta (@garywhitta) January 11, 2017
Despite doing massive business in most territories, Rogue One has failed to light the box office on fire in China despite the casting of movie stars like Donnie Yen and Jiang Wen in major roles.
spoke with Jonathan Papish, an industry analyst at China Film Insider, to find out why and it's simple: Chinese audiences didn't grow up with Star Wars, so most of them don't care about Star Wars:
It's polarizing Chinese audiences. Those who grew up with the prequel trilogy or maybe caught the original trilogy somehow are giving the film some face, but the newer generation of moviegoers – those that really help a film break out at the box office – just don't care about these stories.
While searching for the Death Star plans, Jyn and Cassian must first cycle through countless other top secret Imperial projects. But what are they? And what do they do? Star Wars Explained is on the case in their latest episode.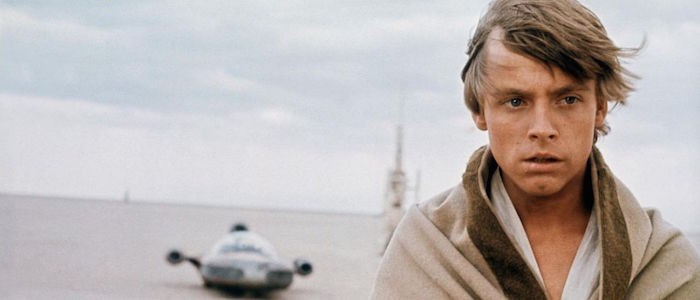 As a kid, I loved Luke Skywalker. As a too-cool teenager, I was more interested in Han Solo. Now that I'm a grown-ass adult, I've gone back to appreciating what Mark Hamill brings to the original trilogy, especially how he allows Luke to grow from a whiny brat into a proper warrior. Hamill himself recently summed up the appeal of Luke and why he's so important the series (via
):
I wasn't 6'2", you know, a perfectly fit specimen. You're right, I was kind of a geek, with no discernible skills. But I thought that was reassuring. ... Now, the kids might be a little wary of Han Solo. He's swaggery, and he's a rogue and a pirate and all that. And the princess is royalty, and Darth Vader is scary. Of all the characters, Luke is the most accessible in terms of a 9-year-old going, 'Oh yeah, I can I hang out with him and not be intimidated.'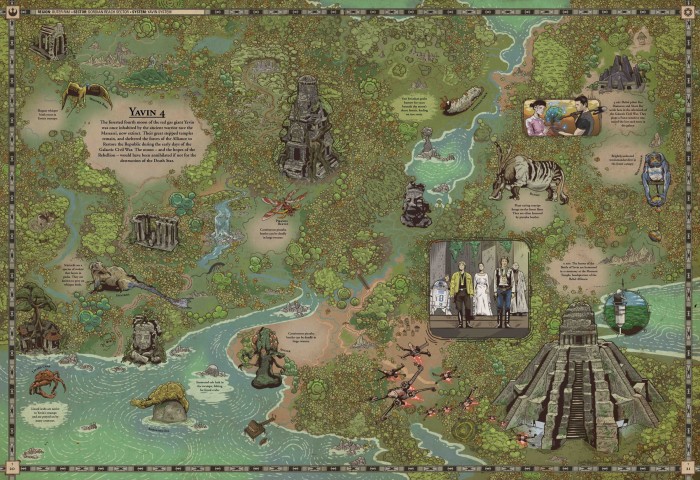 Star Wars: Galactic Maps is one of the coolest Star Wars books I've ever bought, a tour through the known galaxy that leans heavily on gorgeous, double-page illustrations that capture the entire Star Wars saga in a fun, playful, and somehow truly informative style.
has interviewed artist Tim McDonagh, who explains how he approached each piece of art:
I would start with the planet name and a list of 15 or so events that occurred there and then start penciling out all of the vignettes for the planets individually. For example, in the case of Naboo, vignettes like Queen Padmé Amidala, Doctor Nuvo Vindi, Boss Nass, etc., would all be drawn out separately about three or four times the size that they appear on the page. Then we would collate them on a spread and move them around until it made sense to us. After the layout of everything had been agreed, then I would ink all of those up, scan them in, and color them digitally. Then it was a matter of filling in the terrain and adding in any extra bits that I thought might help each spread along. So for Naboo, that was drawing a lot of trees and green areas, taking a look at the kind of architecture that was associated with Naboo and anything else that. There was lots of tweaking and moving objects around because of the scale of the project and all of the information in the book. I had been a huge Star Wars fan before taking this job on, though. I loved the films, books, and computer games growing up, and so I already had an advantage from that point of view.
YouTuber Jamie Stangroom has been interviewing the actors behind smaller characters from the Star Wars saga for video interviews and his conversation with the great Brian Blessed offers a very interesting Jar Jar Binks anecdote. Blessed played Gungan leader Boss Nass in The Phantom Menace and he explains how he saw the trouble with the most hated of all Star Wars characters coming (via
):
No, no, no, no. I did advise at times. I didn't interrupt people's' interpretations because the interpretations were terrific, he's fine. But if you're playing a character like that or you're playing Boss Nass, I always made sure that my noises didn't interfere with dialogue, because I had a lot of plot. I made it [the line of dialogue] clear, then I made noises. But I didn't make noises on the line, and I think Jar Jar Binks makes noises on the line, and he has a lot of plot, so the audience will go: 'what did he say?!' I said, you lose a bit of plot, you have to be careful. Cause it involved me a bit and George said 'I'll watch it Brian, I'll watch it.'
Let's wrap up this edition of Star Wars Bits with video footage of Tony and Gwen Francis, who built a four foot tall BB-8 snowman in their backyard in Highland, Utah. It's adorable.