Schwing! 'Wayne's World' Will Have 25th Anniversary Screenings In February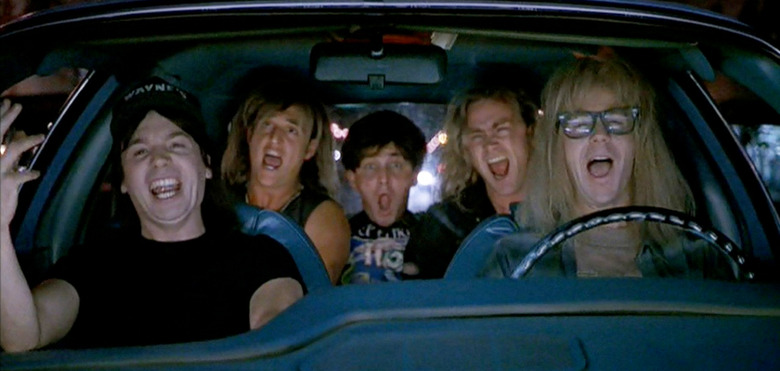 It's Wayne's World! Wayne's World! Party time! Excellent!
This might be hard to believe, but the Saturday Night Live movie Wayne's World will officially be 25 years old next month. The comedy hit theaters on February 14, 1992, and Paramount Pictures is preparing to celebrating this milestone anniversary with a theatrical re-release of the meta 90s comedy starring Mike Myers and Dana Carvey.
Find out when you can catch the Wayne's World 25th anniversary screenings below.
Paramount Pictures and SpectiCast sent out a press release announcing that Wayne's World will return to theaters for two nights only on February 7 and February 8. The trick is that even though it will be playing at hundreds of theaters across the United States (mostly Cinemark and Carmike locations), it's not necessarily playing on both nights at those locations. In order to find the nearest theater that is playing Wayne's World (and when), check out the Wayne's World 25th Birthday Bash website right here.
The screening will have an introduction by Peter Travers from Rolling Stone magazine as well as a recorded discussion with director Penelope Spheeris and cast members from the movie (though it's not indicated as to which cast members it will be).
When ranking the Saturday Night Live movies awhile back, I placed Wayne's World at the top of the list, though it could be interchanged with The Blues Brothers (in the #2 spot) and that wouldn't be bad either. It's been a favorite since I was a child, despite not necessarily getting all the jokes at a young age.
If Wayne's World isn't the kind of movie you feel the need to see in theaters again, you'll be able to get a 25th anniversary double feature DVD or Digital HD download starting on the movies actually anniversary on February 14. If you get it on iTunes, there will be new-to-digital extras, including the director's commentary and a featurette.