International 'Kong: Skull Island' Trailer Proves That Monsters Exist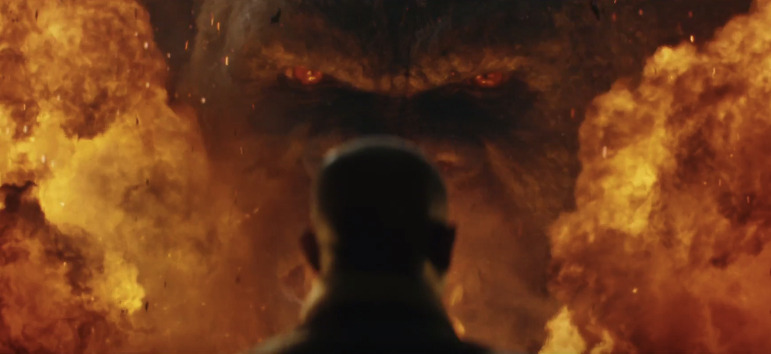 A new adventure featuring the classic movie monster King Kong is just a couple months away. Kings of Summer director Jordan Vogt-Roberts is bringing the massive ape to the big screen in his largest form yet in Kong: Skull Island, but he's not the only monster that a group of explorers have to contend with.
Tom Hiddleston, Brie Larson, John Goodman, Samuel L. Jackson, Corey Hawkins, Jason Mitchell and more all encounter an endless array of giant creatures, from creepy spiders to gargantuan lizards and much more. Now a new Kong Skull Island trailer makes it hard to tell whether King Kong or these other monsters will be a larger threat to our human protagonists.
Watch the international Kong Skull Island trailer below.
Most of the new tease is old footage from the previous trailer for the action adventure, but there are plenty of cool new shots here. This trailer also works better because John C. Reilly's goofiness doesn't come out of nowhere to make it feel like Land of the Lost (though we still do hear him briefly in the trailer). But the real treat is the Japanese voiceover that makes this sound more exciting than any other trailer so far.
Hopefully this offers a significant departure from the kind of action adventure that we saw in Peter Jackson's King Kong from 12 years ago, so that it doesn't feel like a complete retread. As for how this connects to Godzilla, I think that the nuclear bombs that we've dropped, resulting in the King of Monsters' creation, also resulted in the mutations that are found on Skull Island. But we'll probably find out more of that when the movie arrives.
Kong: Skull Island arrives on March 10.
Warner Bros. Pictures and Legendary Pictures' "Kong: Skull Island" reimagines the origin of the mythic Kong in a compelling, original adventure from director Jordan Vogt-Roberts ("The Kings of Summer").
In the film, a diverse team of explorers is brought together to venture deep into an uncharted island in the Pacific – as beautiful as it is treacherous – unaware that they're crossing into the domain of the mythic Kong.
"Kong: Skull Island" stars Tom Hiddleston ("The Avengers," "Thor: The Dark World"), Samuel L. Jackson ("The Hateful Eight," "Avengers: Age of Ultron"), Oscar winner Brie Larson ("Room," "Trainwreck"), John Goodman ("Transformers: Age of Extinction," "Argo") and John C. Reilly ("Guardians of the Galaxy," "Step Brothers").  The international ensemble cast also includes Tian Jing ("Police Story: Lockdown"), Corey Hawkins ("Straight Outta Compton"), Jason Mitchell ("Straight Outta Compton"), John Ortiz ("Steve Jobs"), Thomas Mann ("Beautiful Creatures"), Shea Whigham ("The Wolf of Wall Street"), Toby Kebbell ("Dawn of the Planet of the Apes") and Eugene Cordero ("The Kings of Summer").
Vogt-Roberts is directing the film from a screenplay by Max Borenstein, John Gatins, Dan Gilroy and Derek Connolly.  "Kong: Skull Island" is produced by Legendary's Thomas Tull and Jon Jashni with Mary Parent.  The executive producers are Eric McLeod and Alex Garcia.