Watch New Trailers For '24: Legacy', 'Prison Break' & Two More FOX TV Shows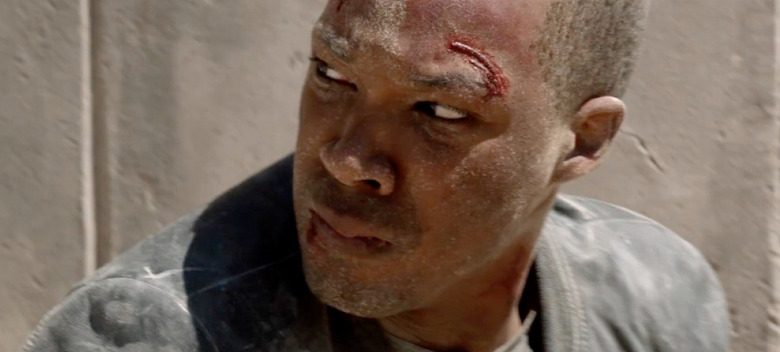 Now that we're into the year 2017, shows are coming back from their midseason hiatus to finish out the rest of their season. In addition, there are some new shows arriving on TV for the first time. And following their panel at the Television Critics Association winter press tour this week, FOX has released some new trailers for the shows coming to their network over the next few months.
24: Legacy resets the clock with Corey Hawkins as the new lead of a series set in the universe of the original  starring Kiefer Sutherland (though he won't be back as Jack Bauer for now). Prison Break is also making a comeback with the return of Wentworth Miller and Dominic Purcell.
Outside of the returning shows, FOX also has two new crime dramas. APB follows a police precinct in Chicago taken over by a billionaire in an effort to fight crime properly, reduce corruption and create an efficient private police force. Then there's Shots Fired, a 10-part event series that takes a look at the broken criminal justice system.
Watch the new 24 Legacy trailer and all the rest of the sneak peeks after the jump.
24: Legacy Trailer
There's something interesting about this approach to 24 right off the bat, and it lies within Corey Hawkins' character. When the original 24 started, Jack Bauer wasn't really a flawed hero. He was a skilled agent, and it wasn't until later in the series that he started to become unhinged. In this series, former Army Ranger Eric Carter (Corey Hawkins) clearly has some PTSD and some enemies that are in fast pursuit of him. It should be interesting to see how this complicates things. Plus, this trailer gives us the return of Carlos Bernard as Tony Almeida.
24: Legacy debuts after the Super Bowl on February 5 before heading to Mondays at 9pm ET.
Six months ago in Yemen, an elite squad of U.S. Army Rangers, led by Sergeant ERIC CARTER (Corey Hawkins, "Straight Outta Compton"), killed terrorist leader Sheik Ibrahim Bin-Khalid. In the aftermath, Bin-Khalid's followers declared a fatwah against Carter, his squad and their families, forcing them into federal witness protection. But a recent attempt on Carter's own life makes it clear to him that his team is now exposed. To thwart further attacks, Carter enlists REBECCA INGRAM (Miranda Otto, "Homeland"), who quarterbacked the raid that killed Bin-Khalid. She's a brilliant and ambitious intelligence officer who has stepped down from her post as National Director of CTU to support her husband, SENATOR JOHN DONOVAN (Emmy and Golden Globe Award winner Jimmy Smits, "NYPD Blue," "The West Wing"), in his campaign for President of the United States. Decades of sleepless nights and missed anniversaries landed her at the top. With the White House within their grasp, can she truly embrace a new role as First Lady? Or will her love of the action draw her back in? Together, in this fast-paced thrill ride, Carter and Ingram uncover a sophisticated terrorist network that will force them to ask: "Who can we trust?" As they battle Bin-Khalid's devotees, they are forced to confront their own identities, families and pasts.
Prison Break Trailer
It turns out Michael Scofield (Wentworth Miller) may be alive in the return of the hit series on Fox, and we're going to get yet another big breakout. Honestly, I don't see the return of this series being all that necessary or all that exciting. But here we are. Maybe it'll spice things up enough to satisfy fans of the original series.
Prison Break returns on April 4 at 9pm ET / 8pm CT.
In the thrilling new event series PRISON BREAK, original series stars Wentworth Miller, Dominic Purcell, Sarah Wayne Callies, Amaury Nolasco, Robert Knepper, Rockmond Dunbar and Paul Adelstein are reunited for an all-new adventure spanning the globe and featuring the signature thrills and cliffhangers that were hallmarks of the original series when it aired on FOX from 2005-2009. The original action drama centered on MICHAEL SCOFIELD (Miller, "The Loft"), a young man determined to save his convicted brother, LINCOLN BURROWS (Purcell, "DC's Legends of Tomorrow"), from death row by hatching an elaborate plan to escape from prison.
In the all-new event series, filmed on location in Morocco, clues surface that suggest a previously thought-to-be-dead Michael may be alive. Lincoln and SARA (Sarah Wayne Callies, "Colony," "The Walking Dead"), Michael's wife until he was assumed dead, reunite to engineer the series' biggest escape ever, as three of Fox River State Penitentiary's most notorious escapees, SUCRE (Nolasco, "Telenovela"), T-BAG (Knepper, "Heroes") and C-NOTE (Dunbar, "The Mentalist"), are pulled back into the action.
APB Trailer
Adding a new spin to the crime drama this season is APB. When a billionaire finds his best friend murdered in a botched attempted robbery, he decides to take matters into his own hands to make a Chicago police precinct more effective. He turns them into a private police force equipped with state-of-the-art technology and a new approach to crime fighting. Surely there will be some resistance in some form or another, though. With all the police procedurals out there, this is an interesting approach to the genre that could be worth watching.
APB premieres February 6 at 9pm ET / 8pm CT.
Police work isn't rocket science. It's harder. Inspired by true events, APB is a new police drama with a high-tech twist from executive producer/director Len Wiseman (LUCIFER, "Underworld") and executive producer/writer Matt Nix ("Burn Notice"). Sky-high crime, officer-involved shootings, cover-ups and corruption: the over-extended and under-funded Chicago Police Department is spiraling out of control. Enter billionaire engineer GIDEON REEVES (Emmy Award and Golden Globe nominee Justin Kirk, "Tyrant," "Weeds"). After his best friend is murdered in a botched attempted robbery, and the killer remains at large, Gideon demands justice. Putting up millions of dollars of his own money, he makes an unprecedented deal to take over the troubled 13th District – and reboot it as a private police force: better, faster and smarter than anything seen before.
With cutting-edge technology created by Gideon himself, this eccentric yet brilliant outsider challenges the city's police force to rethink everything about the way they fight crime. But the near-overnight transition to the city's most advanced police district doesn't sit well with all of its members. Gideon knows if he's going to change anything, he needs an ally, whom he finds in OFFICER THERESA MURPHY (Natalie Martinez, "Kingdom," "Under the Dome"), an ambitious, street-smart cop who is ready to embrace Gideon's technological changes. With the help of Gideon's gifted tech officer, ADA HAMILTON (Caitlin Stasey "Reign"), he and Murphy embark on a mission to turn the 13th District – including a skeptical SGT. NED CONRAD (Ernie Hudson, "Grace and Frankie," "Ghostbusters"), and determined OFFICERS NICHOLAS BRANDT (Taylor Handley "Vegas," "Southland") and TASHA GOSS (Tamberla Perry "Boss") – into a dedicated crime-fighting force of the 21st century.
Shots Fired Trailer
Inspired by the endless headlines about police shootings, Fox is tackling the sensitive issues of violence and racial tension in this drama that dives into the flawed inner-workings of the criminal justice system. This one is touted as an event series, and with a cast that includes Stephan James (Race), Helen Hunt, Richard Dreyfuss, and Stephen Moyer, it's likely not intended to be a continuing series after this. But it certainly looks compelling.
Shots Fired premieres on March 22 at 8pm ET / 7pm CT after Empire.
When an African-American police officer kills an unarmed white college student, a small town in North Carolina is turned upside-down. Before the town has a chance to grapple with this tragedy, the neglected murder of an African-American teen is brought to light, re-opening wounds that threaten to tear the town apart. Leading the Department of Justice's inquiry into these shootings is seasoned investigator ASHE AKINO (Sanaa Lathan, "The Perfect Guy") and a young Special Prosecutor, PRESTON TERRY (Stephan James, "Race," "Selma"), both of whom are African-American. As they start to pull back the layers of both cases, they suspect a cover-up that may involve some of the state's most powerful people, including fiercely political North Carolina Governor PATRICIA EAMONS (Academy-, Emmy- and Golden Globe-winning actress Helen Hunt, "As Good As It Gets," "The Sessions"). She's in a tough re-election fight, and the recent shootings in her state are making it even tougher. Meanwhile, real estate mogul and owner of a privatized prison ARLEN COX (Academy- and Golden Globe Award-winning actor Richard Dreyfuss, "The Goodbye Girl," "Jaws," "Madoff"), is pulled into the case, as LT. ERIC BREELAND (Stephen Moyer, "The Bastard Executioner," "True Blood"), a seasoned veteran in the town's Sheriff's Department, gets caught in the middle of the investigation. SHOTS FIRED tackles the racial divide from all perspectives. As Ashe and Preston navigate the media attention, public debate and social unrest that come with such volatile cases, they learn that everybody has a story, and that the truth is rarely black and white.