'La La Land' Featurette: How The Musical Blends Classic Moviemaking With Contemporary Style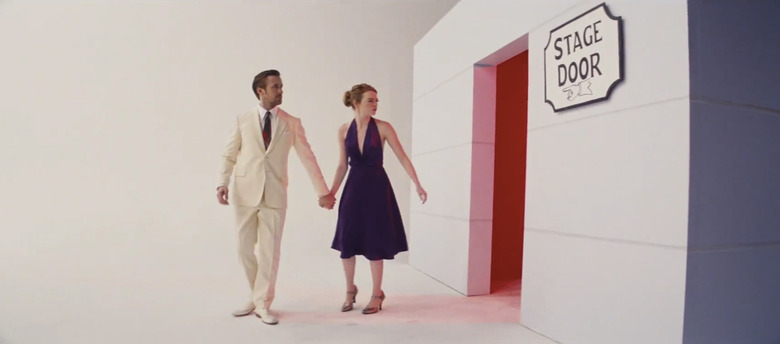 Last weekend, La La Land won all of the Golden Globes it was nominated for, setting a new record for the most Golden Globes won by a single film with seven trophies taken home. There's a good chance that the movie, including stars Ryan Gosling and Emma Stone, will get plenty of Oscar nominations when they're announced on January 24th too.
In the meantime, more and more people are seeing the musical now that it's in wide release across the country. That means there's no better time for a new La La Land featurette to show how director Damien Chazelle blended his love for classic musicals from decades ago with a contemporary romance set in the heart of Los Angeles.
Watch the La La Land featurette after the jump.
The featurette specifically focuses on the visual style of the film, with set designs that throw back to vintage Los Angeles, bright colors all over the place, and some old school movie sets that feel straight out of the 1950s.
But perhaps the most interesting part of the featurette comes when they explain how they actually shut down a section of freeway in Los Angeles in order to shoot the opening musical number that sets the stage for what's to come. Traffic is a nightmare in Los Angeles, so I can only imagine what kind of chaos this caused for commuters. But since the result ended up being one of the best movies of the year (my favorite of 2016), hopefully the City of Stars will agree that it was all worth it.
If you haven't seen La La Land yet, do yourself a favor and get out there and see it immediately. It will pull at all your heartstrings and will have your toe tapping and body swaying with all the music. What are you waiting for?
A devotee of the jazz legends Bud Powell and Thelonious Monk, Sebastian (Ryan Gosling) plays a mean piano himself and is determined to uphold the values of the old masters. His plans include opening his own club, but to make ends meet he's stuck playing tepid cocktail jazz in a humdrum Los Angeles restaurant. Mia (Emma Stone) is a movie buff with an eye for the classics who aspires to be a serious actress. For the moment, the closest she comes to seeing stars is serving lattes in the canteen on the Warner Bros. lot.
Sebastian and Mia meet cute no less than three times before diving headlong into a life-altering romance, but is their love strong enough to weather disappointment, compromise, and ever-burgeoning periods apart?
La La Land is playing in theaters everywhere now.