Peter Dinklage In Talks To Join 'Avengers: Infinity War'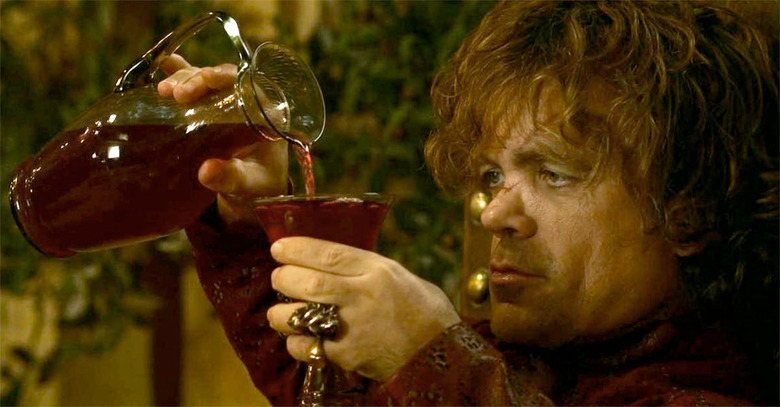 Game of Thrones star Peter Dinklage may be headed to the Marvel Cinematic Universe. The actor who plays Tyrion Lannister is being eyed for a pivotal role in the upcoming epic crossover event film Avengers: Infinity War. Hit the jump for more info on the possible Peter Dinklage Avengers: Infinity War casting.Variety has learned that Dinklage is in talks to join both Avengers: Infinity War and the yet-to-be-titled Avengers sequel (which we will just refer to as Avengers 4 for now). The fact that Game of Thrones moved its eighth season shoot from summer to fall has created an opening in Dinklage's schedule. Avengers: Infinity War and Avengers 4 are expected to film back-to back begining sometime in early summer 2017.
As for what character Peter Dinklage will play, that is unknown at this time as plot details are being kept tightly under wraps. Josh Brolin is on board to play mega-villain Thanos, and we would assume that Dinklage is playing another antagonist in the film. Deadpool creator Rob Liefeld, who we should note is not involved in the production, took to Twitter to predict that Dinklage may be playing Pip in the upcoming films:
Peter Dinklage/PIP Makes ALL THE SENSE!! pic.twitter.com/SNegWRiUha

— robliefeld (@robertliefeld) January 11, 2017
Pip the Troll was introduced by Jim Starlin in Strange Tales vol 2 #179 which was published in February 1975. He was created to be an antagonist of Adam Warlock, but he went on to cross path with other Marvel superheroes. In fact, Pip played a role in the 1991 Infinity Gauntlet crossover which Infinity War is loosely based upon, and returned for the Infinity War, Infinity Crusade, and Blood and Thunder crossovers. According to Wikipedia:
Pip was once Prince Gofern of the planet Laxidazia, in the Dolenz System. He was originally an alien of the Laxidazian race who became physically and psychologically mutated into a morally degenerate, stunted, satyr-like form known as a "troll" during a bout of drunkenness brought on by a mutagenic hallucinogenic ale. Like all Laxidazian trolls, After his transformation, his people, also sick of his lewd, lecherous, and hedonistic behavior, strip him of his office and rank. He stows away on a spaceship and continues his life of debauchery. Pip meets Adam Warlock, whose alternate future self the Magus would become the leader of the Church of Truth. Pip teamed up with Warlock to escape and go on adventures. Pip then meets the green-skinned Gamora. Pip meets Thanos, and alongside Warlock, Gamora, and Thanos, he battles the Magus and the Universal Church. Pip revealed how he was transformed into a troll. ... Pip explored one of Thanos' old hideouts and discovered not Adam, but Thanos himself. Thanos destroyed Pip's mind, but Adam was able to absorb Pip's soul into the Soul Gem (killing his mindless body, but restoring full mental function to his soul), reuniting him with the spirits of Gamora and eventually Adam Warlock in Soulworld within the Soul Gem.
Other fans believe that Dinklage may be playing supervillain MODOK (Mental/Mobile/Mechanized Organism Designed Only for Killing), but that's probably an assumption based on his size.
It is worth noting that Peter Dinklage would join a select group of actors which includes Chris Evans who have worked on Marvel movies on both sides of the Fox/Marvel Studios divide. Dinklage played Bolivar Trask in X-Men: Days of Future Post, a doctor who develops the Sentinels.