'Better Call Saul': Gus Fring's Back... In A Los Pollos Hermanos Commercial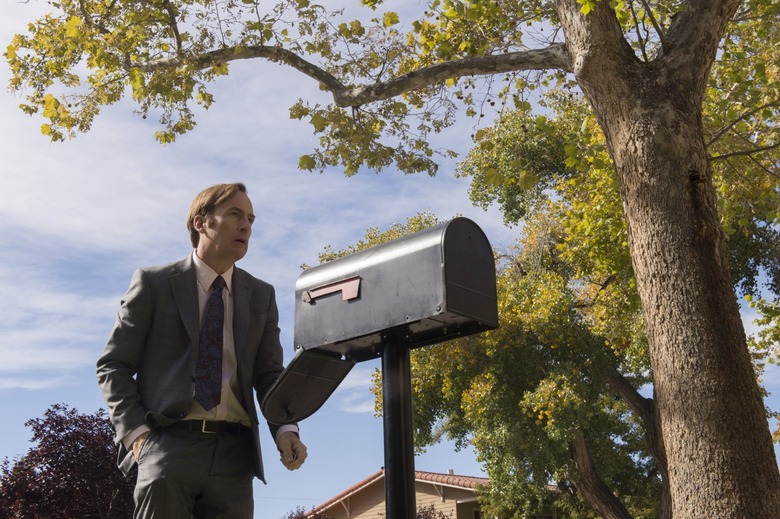 It's not like we really need to be convinced to tune in for Better Call Saul season three. The superb first two seasons are reason enough to return for another helping. But just in case you'd like something to whet your appetite, AMC's cooked up a fun little promo — not for Better Call Saul, exactly, but for Los Pollos Hermanos.
Of course, Breaking Bad fans know this cheery fast food operation isn't exactly what it seems. It's actually a front for an extremely successful criminal enterprise run by ruthless kingpin Gus Fring (Giancarlo Esposito). AMC still isn't saying whether Fring's back in season three. But they sure seem interested in reminding you that this guy's currently kicking around Albuquerque somewhere. Make of that what you will. See the potential Better Call Saul Gus Fring tease below. 
"Taste the family" seems like a weirdly creepy slogan for an otherwise normal-seeming restaurant. Gus Fring may be a ruthless drug lord and a cold-hearted killer, but he's not one to go around eating people. Well, at least that we know of.
While the Los Pollos Hermanos ad stops short of outright confirming Gus Fring's presence in Better Call Saul season three, it seems like the strongest hint yet that the Breaking Bad character is on the verge of making his Better Call Saul debut. Speculation about Gus heated up last season when fans noticed the first letters of all the season two episodes were an anagram for "FRINGS BACK." And the season two finale showed Mike Ehrmentraut receiving a mysterious note that may have come from Fring. Executive producer Vince Gilligan has acknowledged that those clues were meant to point at Gus, though he insisted it was "never the intention" to actually show Gus in season two.
As of last year, Gilligan was still playing coy about the Gus Fring question.
And to take it a step further, people should not assume in any way, shape, or form that they'll see Gus in the first episode of next season. It's possible they will. It's also possible, if not more possible, they won't. Gus is a character, as we know from Breaking Bad, who casts a very long shadow, and has a great many agents doing his bidding. He's a guy who's very hard for Walter White to pin down when Walt met him, and I think that will continue to be the case. That is his character, as I understand it. He is not a guy who reveals himself very quickly.
Bringing Gus in around this point in the show would seem to make sense. We know that Mike and Saul (née Jimmy) are already acquainted with Gus by the time Walt and Jesse meet him in Breaking Bad, and over the past couple of seasons the plot of Better Call Saul has been inching ever closer to the events of that other series. Gus was truly one of the standout villains of Breaking Bad, so it should be fun to see how he'll fit into the world of Better Call Saul pre-Walt.
Better Call Saul returns in spring 2017.