'Urban Myths' Trailer: See Joseph Fiennes As Michael Jackson, Rupert Grint As Hitler's Friend & More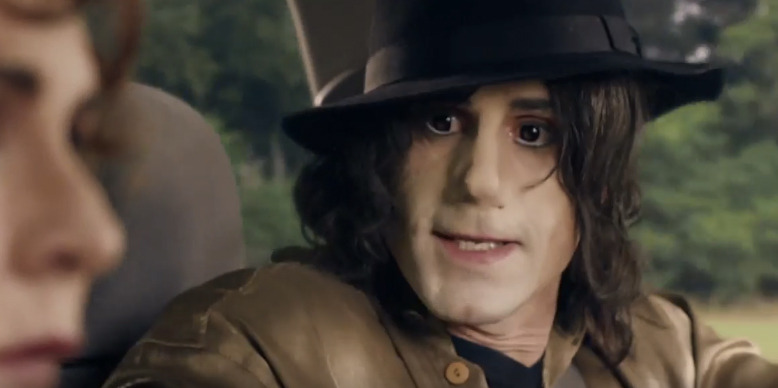 Almost an entire year ago, you might remember the silly news that Shakespeare in Love star Joseph Fiennes was set to play Michael Jackson in a story that follows an alleged road trip taken by the King of Pop and his famous friends Elizabeth Taylor and Marlon Brando from New York to Ohio in an effort to get home after the terrorist attacks of 9/11.
Since we haven't heard anything over the past year about the project, which was said to be a half-hour comedy special of some sort, we assumed it was dead. But we had a rude awakening when the trailer for a new British TV series called Urban Myths showed up online overnight. And it turns out the show has more than a few short stories about famous people, including Cary Grant, Adolf Hitler, Bob Dylan, Andre the Giant, Muhuammad Ali, Alice Cooper and more.
Watch the Urban Myths trailer and find out about the various episodes after the jump.
As the title of the series implies, each half-hour episode will be based on some kind of mythical story about a handful of celebrities that may or may not have happened. The episode with Joseph Fiennes as Michael Jackson also features Grease star Stockard Channing as Elizabeth Taylor and Brian Cox as Marlon Brando. If it weren't for the extremely ill-advised casting of Joseph Fiennes as Michael Jackson, this could have been something interesting to watch.
The controversial episode in question won't even come until later this year, but these first four episodes will arrive on Sky Arts in January and February:
January 19 – Bob Dylan with Eddie Marsan as Dylan, Paul Ritter as Dave Stewart and Katherine Parkinson as his wife Ange. Written by Neil Webster and directed by Ben Palmer. In this episode, music legend Bob Dylan plays an impromptu visit to his friend and fellow musician Dave Stewart at home, only to find that he's got the wrong house.
January 26 – Samuel Beckett and Andre the Giant with David Threlfall as Beckett. Written by Neil Forsyth and directed by Ben Palmer. In this episode, a young Andre the Giant is driven to school by the playwright Samuel Beckett.
February 2 – Hitler the Artist with Iwan Rheon as Adolf Hitler and Rupert Grint as Gustl. Written by Ben Edwards and directed by Dan Zeff. In this episode, a young Adolf Hitler is trying and failing to pursue a career in art.
February 9 – Cary Grant and Timothy Leary with Ben Chaplin as Grant and Aiden Gillen as Leary. Written by Ed Dyson and Roger Drew. In this episode, Hollywood leading man Ben Chaplin introduces psychologist Timothy Leary to LSD.
And here are the episodes that don't have air dates just yet but will arrive later this year:
Elizabeth, Michael & Marlon with Stockard Channing as Elizabeth Taylor, Joseph Fiennes as Michael Jackson, Brian Cox as Marlon Brando and Carrie Fisher as a diner waitress. Written by Neil Forsyth and directed by Ben Palmer. In this episode, long-time friends Elizabeth Taylor, Michael Jackson and Marlon Brando flee New York together after the 9/11 terrorist attacks.
Muhammad Ali with Noel Clarke as Ali. Written and produced by Neil Webster and directed by Ben Palmer. In this episode, the champion boxer talks a suicidal stranger down from a ledge.
The Sex Pistols with cast TBA. Written by Simon Nye. This episode will tell the story behind the punk band's infamous appearance on the Bill Grundy show in 1976.
Salvador Dali and Alice Cooper with cast and crew TBA. In this episode, the surrealist summons the rock star to sit for him while he creates a hologram.
Well, this certainly sounds like one of the weirder series we've seen come to fruition in recent years. Playing these episodes up for comedy is a unique approach to these stories when some of them might have made for better indie movies with the right budget and cast involved. But instead, it looks like we're getting goofy adaptations of these urban myths. We're not sure when/if we'll be able to see this series here in the United States or not, but fingers crossed that this lunacy makes it across the pond.