Joel And Ethan Coen Are Making Their First TV Series, 'The Ballad Of Buster Scruggs'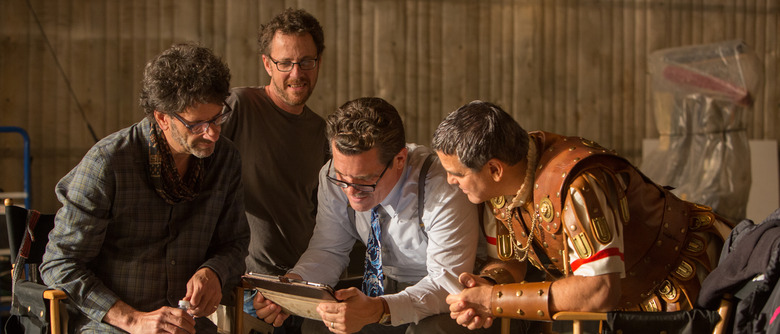 Like so many other esteemed filmmakers in recent years, Joel and Ethan Coen are making the move to television. The brothers are teaming up with Annapurna Television for The Ballad of Buster Scruggs, a limited series that they wrote and will direct. Intriguingly, this won't be just a television series — the idea is that the entire project will be some combination of television and (theatrically released) film.
The Ballad of Buster Scruggs marks the Coens' first real push into television. Although the brothers are credited as executive producers on FX's Fargo, which is based on their 1996 film, it's really Noah Hawley's show. The Coens will have a much more active role in developing and making The Ballad of Buster Scruggs, which is based on an original concept that they came up with. The brothers have had great success with the Western genre in the past, helming the very good True Grit and the exceptional No Country for Old Men.
In addition to writing and directing, they'll also produce through their Mike Zoss Productions label. Annapurna's Megan Ellison and Sue Naegle serve as executive producers.
Plot details on the Coen brothers TV show are being kept under wraps for now, but it's described as an "event anthology" that will weave together six different storylines. Apparently, their idea was too big to be contained in a single feature film, so Annapurna is pursuing a combined TV / theatrical release. Exactly how the project will be broken up remains unclear. No distributor or release date has been announced yet.
Variety likens the Annapurna's multi-platform approach for The Ballad of Buster Scruggs to the one Imagine Entertainment has planned for their adaptation of Stephen King's The Dark Tower, which will kick off this year with its first feature film. It also sounds a bit like Lionsgate's plan for The Kingkiller Chronicle, which is being developed simultaneously for the big screen and the small screen.
The Coens last directed Hail, Caesar! and co-wrote the script for Suburbicon, George Clooney's next movie as director. The Coens have not yet announced what their next film project will be.