Watch Animation Test Footage For A 'Rust' Graphic Novel Adaptation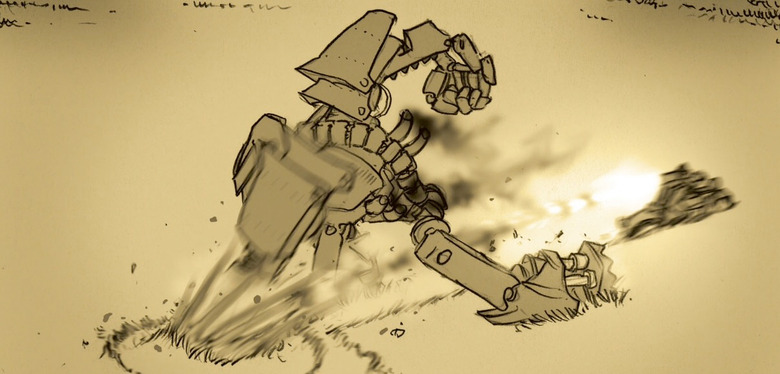 We may receive a commission on purchases made from links.
A live-action adaptation of Royden Lepp's family-friendly graphic novel Rust has been in the works since the summer of 2011, a few months before it was even available to purchase. A year later, Attack the Block director and The Adventures of Tintin co-writer Joe Cornish was attached to direct the film, produced by Simon Kinberg, with a script by The Devil Wears Prada writer Aline Brosh McKenna. Since then, we haven't heard anything about the project, but that changes today.
Sadly, there hasn't been any update on the development of Rust, but it appears there may have once been an idea to turn the movie into an animated adaptation instead of a live-action movie. Some Rust test footage has been discovered online, created by animator Ryan J. Woodward, the same guy who has worked on movies like Space Jam, Osmosis Jones, The Iron Giant and Tomorrowland.
Watch the Rust animation test footage below.
Motion Graphics tweeted out this short clip, crediting it to Ryan J. Woodward (via GeekTyrant):
By @ryanwoodwardart
・・・https://t.co/UrUThlGF3f
・・・#motiongraphics #animation #artwork #work #art #illustration #character #characterdesign pic.twitter.com/j9Fe2lSCrr

— Motion Graphics Collective (@Motion_Graphic) November 30, 2016
For those who aren't familiar with Rust, here's the official synopsis of the first volume:
Rust is a high-octane adventure set in the prairie lands of an unknown time. Life on the Taylor family farm was difficult enough before Jet Jones crashes into the barn, chased by a giant decommissioned war robot! Oldest son Roman Taylor struggles to keep his family's small farm afloat as the area heals from a devastating world war. While the rest of his family may not trust the mysterious boy with the jetpack, Roman believes the secrets of Jet's past may be the key to their survival.
The above clip takes place on the farm, following Jet Jones as he rides on the front of Roman Taylor's motorcycle, which is being chased by the giant robot. In addition, there's also another test clip featuring the robot from the above video that was posted over a year ago, but you have to watch it over at Vimeo since privacy settings keep it from being embedded.
The clip from the Twitter post surfaced back in November, but this is the first we've seen of it. There's no indication as to whether this is for a version of Rust that is still in the works or if it's merely Ryan J. Woodward just messing around with some software just for the hell of it. Either way, the influence of The Iron Giant is clear both in character design and visuals, just with a 3D style instead of more traditional 2D animation and a sepia tone. It would be great to see an animated adaptation of Rust in this form get off the ground, but as of now, we don't know what Fox is thinking.