'Guardians Of The Galaxy Vol. 2' Toy Offers Our First Look At The Villain, Elizabeth Debicki's Ayesha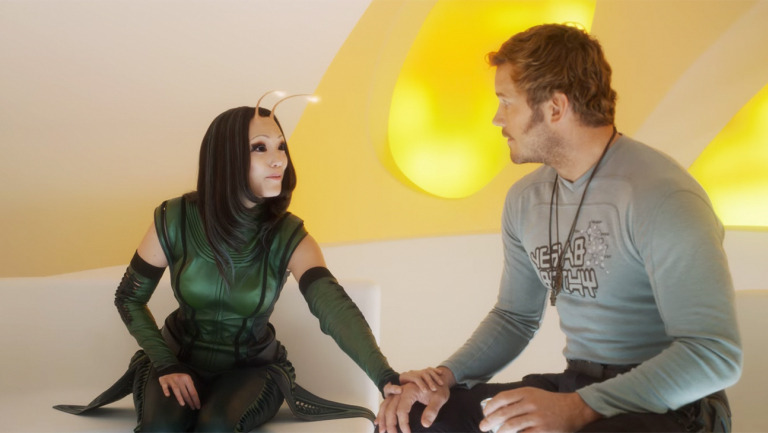 Filmmakers, stars, and studio marketing teams will bend over backward to keep a film's secrets, but the tie-in toy line will give them away every time. Okay, so "every time" is an exaggeration. But as we've seen recently with everything from Power Rangers to Beauty and the Beast, toys can be a rich source of information about highly anticipated and closely guarded upcoming releases.
Like Guardians of the Galaxy Vol. 2. While we've known for a while that Elizabeth Debicki's Ayesha would be the villain, the first trailer didn't show her at all. So our first look at the character comes today in the form of a Funko Pint Size Heroes toy. Check it out below. 
A fan noticed a previously unidentified character among the Pint Size Heroes offerings, and asked director James Gunn about it on Twitter.
@JamesGunn Who is she? pic.twitter.com/XrkK9d756X

— danny (@popsicill) January 8, 2017
Gunn responded:
I actually saw footage of Debicki's Ayesha at Comic-Con. This toy doesn't quite do her justice, since it makes her look like a fairly normal human woman in a blue uniform. What we saw in the clip was a statuesque gold figure sitting on a star-shaped throne. And by "gold," I don't just mean blond-haired with golden skin — I mean bright metallic gold.
According to Gunn, the movie's version of Ayesha is the "golden High Priestess of a genetically-perfect people called the Sovereign." He added that she is "not a woman to be screwed with – she, and her entire world, are extraordinarily deadly." Naturally, the Guardians manage to screw it up somehow. Ayesha hires the Guardians to help battle a giant galactical beast, and "it's all going swimmingly until it all turns very very sour," teased Debicki. "Let's just say it goes from amiable to not-so-amiable quite quickly."
Guardians of the Galaxy Vol. 2 is in theaters May 5, 2017.
Set to the backdrop of 'Awesome Mixtape #2,' Marvel's Guardians of the Galaxy Vol. 2 continues the team's adventures as they traverse the outer reaches of the cosmos. The Guardians must fight to keep their newfound family together as they unravel the mysteries of Peter Quill's true parentage. Old foes become new allies and fan-favorite characters from the classic comics will come to our heroes' aid as the Marvel cinematic universe continues to expand.