'Gold' Red Band Trailer: Matthew McConaughey Chases A Dream In The Jungle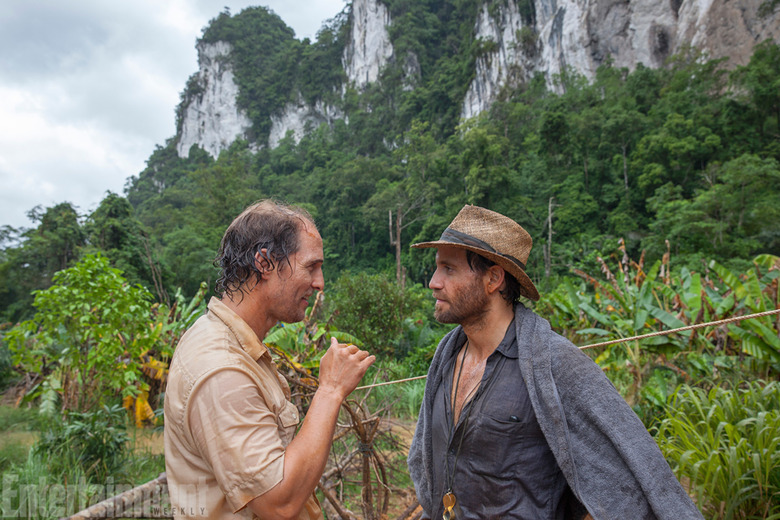 The first wave of reviews for Gold are disappointing. Unfortunately, Stephen Gaghan's latest directorial effort, which The Weinstein Company positioned as an awards contender, so far hasn't connected with critics. Perhaps it'll fare better with audiences once the film, which stars Matthew McConaughey and Edgar Ramirez, goes wide at the end of the month.
Below, watch the Gold red band trailer.
Gold was initially scheduled for a wide release on Christmas Day, but TWC instead gave the drama an awards-qualifying limited run during the holiday season and held off on bringing it to a few thousand screens. Based on a true story, the film stars McConaughey as Kenny Wells, a man with a dream who goes hunting for gold in the Indonesian jungle. With Michael Acosta (Ramirez), Wells discovers a massive mine. The true story once interested the likes of Michael Mann, Spike Lee, Christian Bale, and others. Gaghan's film co-stars Bryce Dallas Howard, Corey Stoll, Bruce Greenwood, Bill Camp, and Toby Kebbell.
Here's the Gold red band trailer:
The scene between McConaughey and Greenwood somewhat grinds the trailer to a halt, but it's worth it for the laugh. It features a funny cut, a great delivery from McConaughey, and a nice emotionless reaction from Greenwood. Greenwood's accent in the trailer is a surprise, but considering this is Bruce Greenwood we're talking about, an actor who has elevated so many movies throughout his career, the accent will probably go unnoticed during the film.
Except for that scene by the jacuzzi, this is a fairly tame red band trailer. Gold is an R-rated movie, so it's a little surprising how safe the red band trailer is and how it makes the film come across. It's not too dissimilar from the past trailers, with a few obvious exceptions. Let's hope Gold has a bit more bite than the red band trailer and reviews suggest.
Here's the official synopsis:
GOLD is the epic tale of one man's pursuit of the American dream, to discover gold. Starring Oscar winner Matthew McConaughey as Kenny Wells, a prospector desperate for a lucky break, he teams up with a similarly eager geologist and sets off on an amazing journey to find gold in the uncharted jungle of Indonesia. Getting the gold was hard, but keeping it would be even harder, sparking an adventure through the most powerful boardrooms of Wall Street. The film is inspired by a true story.
Gold opens in wide release on January 27th.