Tom Hardy Is Just Waiting On The Call For A 'Mad Max' Sequel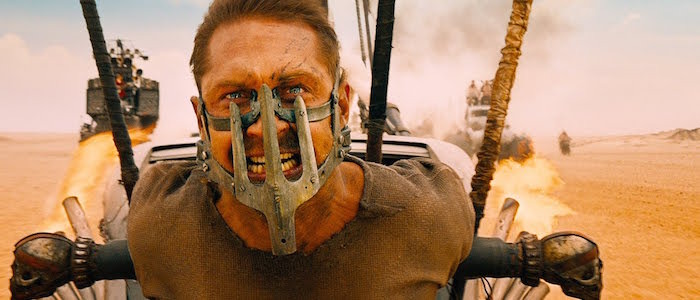 Back in 2015, /Film stopped being a movie site and started being a Mad Max: Fury Road fan site for a little while. But can you blame us? Our favorite movie of that year struck a chord with movie fans all over the world, managing to appeal to action movie junkies and cineastes alike with its inventive filmmaking, wild performances, and rich attention to theme and detail. It remains one of the best movies I've seen in a theater in the past decade. So yeah, we'd welcome another entry in the series...and so would star Tom Hardy, who says he's just waiting for someone to call him.
Speaking with The Wrap, the new Max Rockatansky said that, as far as he knows, a follow-up to Fury Road is still in the works:
Yeah I believe so! I don't know when that starts, but I believe that's in the books. There's a couple of those floating around. I'm waiting for the call to come. It was so good, man.
Aside from rumblings of a possible prequel focused on Charlize Theron's Imperator Furiosa, things have been quiet on the Mad Max sequel front for a year now. At one point, series creator and director George Miller had to correct stories claiming that he was done with the Wasteland, saying that he still has plans for two more sequels:
That was a completely garbled interview. I was in New York and it was so noisy and the journalist was asking me questions on a red carpet at the National Board of Review. She completely got the wrong fragments of information that were just not true. I said no, [another 'Mad Max' movie] will not be next, and she took that to mean I never wanted to make another 'Mad Max.' It won't necessarily be next, but I have two more stories.
However, Miller has also said that he wants to make a smaller, less technically demanding movie before he ventures back to the post-apocalypse:
Yes, I have. And certainly having conversations about it. But I'm not sure if it's the very next movie I want to do. I've got something a bit smaller before we go back out into the wasteland — something that's contemporary that we can get through fairly quickly. And something with not too much technical difficulty. Something more performance-based and so on, just to clear the exhaust.
While the actor playing Max himself is replaceable (Tom Hardy is as good in the part as Mel Gibson ever was), Miller is not. If we're getting a fifth Mad Max movie, it'll happen when he's ready to get the convoy moving. That's when Hardy will get his call.