Showtime's 'Twin Peaks' Revival Sets Premiere Date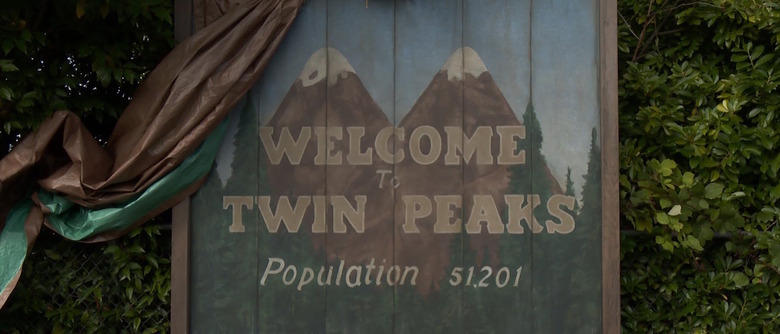 The return of Twin Peaks has been shrouded in mystery, and not just the odd, surreal Lynchian kind. Up until now, we've had little idea about when the show would premiere or even how many episodes we'd get. But today at their TCA session, Showtime shared the first crumbs of information we've had about Twin Peaks in a good long while, including an exact release date and episode count. 
Showtime announced today that the long-awaited third season of Twin Peaks will debut Sunday, May 21. The show will kick off with a two-hour premiere, and episodes 3 and 4 will be made available on Showtime's streaming service immediately afterward. So if you're a fan, clear your calendar — you'll be gorging yourself for hours that night. After that first week, new episodes will air weekly. The third season will consist of 18 episodes in all. And you'll want to savor every last one of them. Although Showtime hasn't completely ruled out the possibility of another season, they're insisting for now that this is a "close-ended, one-time event."
Showtime originally announced the Twin Peaks revival in 2014, ordering nine episodes to premiere sometime in 2016. But arguments broke out between David Lynch and the network, resulting in Lynch dropping the project completely at one point. Fortunately, both sides were eventually able to reach a new deal for an even larger number of episodes. Lynch reportedly directed the whole thing, essentially shooting it like an 18-hour movie, and only later divided the material into episodes. Lynch also wrote the script with Mark Frost.
Plot details are still being kept under wraps. We just know it'll pick up 25 years after the original series (which aired on ABC from 1990-1991) and continue the same story. But Showtime's David Nevins offered a few little clues about what we could expect, describing the new Twin Peaks as "the pure heroin version of David Lynch" that will follow "Agent Dale Cooper's odyssey to Twin Peaks." Kyle MacLachlan is just one of many cast members returning from the original, and they'll be joined by tons of new stars as well. The entire cast list is huge and eclectic.