Chris Hemsworth Calls 'Star Trek 4' Pitch ''Amazing''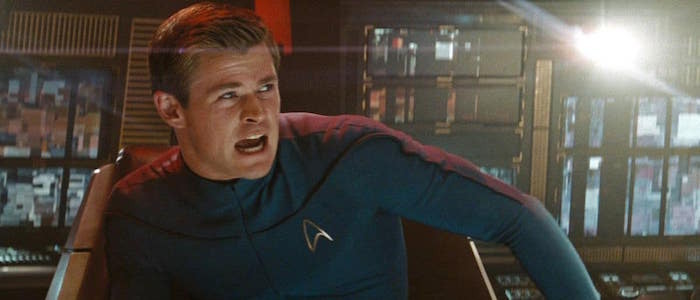 Before Star Trek Beyond hit theaters, JJ Abrams revealed that he had an idea for the fourth film in his new series of Star Trek movies that would see Chris Hemsworth reprise his role as George Kirk. Days later, Paramount confirmed the development, announcing that Hemsworth had signed on for the new film. Abrams later claimed that "the reason we made a deal with Chris Hemsworth as soon as we could" was because they have concocted a really "amazing story." Well Thor himself, Chris Hemsworth agrees, praising the Star Trek 4 pitch on the red carpet of the Golden Globes.
MTV caught up with Chris Hemsworth on the red carpet of the Golden Globes last night. The following is what Hemsworth had to said about the upcoming project:
"I've spoken to J.J. Abrams, and he has an amazing pitch on the whole thing."
Unfortunately, the actor was unable to reveal any more. When asked how this reunion between the late George Kirk and the living James T. Kirk would happen, the actor could only say, "I honestly don't know." You are probably aware that Hemsworth played James Tiberius Kirk's (Chris Pine) father George Kirk in Abrams' 2009 Star Trek reboot. In the opening of the film, George goes down with his ship, just as his son is being born. While it's unclear how George will be brought back from the dead, the Star Trek series has dabbled with time travel quite a bit, even including this new Abramsverse (which if you remember, began with Spock going back in time).
I still love the idea that Birth.Movies.Death proposed about a story that would unite father and son in a mission to reverse the changes that brought about this new Kelvin timeline. Kirk has been dealing with daddy issues and having him team with his dead father on a mission to reverse the events of his entire life sounds like a pretty cool idea for a Star Trek story.
In December, writer/star Simon Pegg teased that he had already started writing the script with his partner Doug Jung, who co-wrote the script for last year's Star Trek Beyond. No director is on board for this fourth installment, and it's unlikely that Justin Lin will be returning for another sequel. JJ Abrams also said last night that he is done with reboots, remakes, and sequels, so he likely won't be the one helming this story.