'The LEGO Batman Movie' TV Spots: Bruce Wayne Has Aged Phenomenally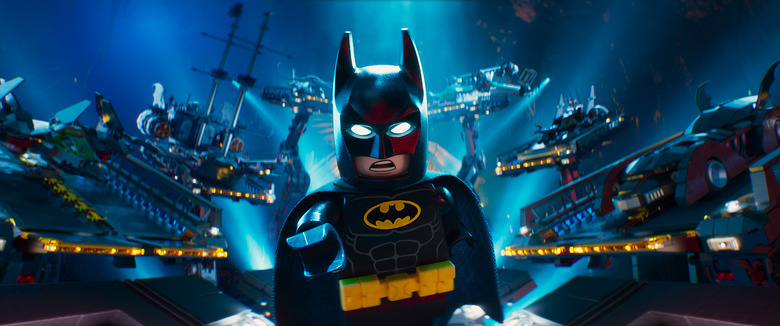 LEGO Batman may have a mansion, plenty of wonderful toys, and a loyal butter, but he has zero friends. The caped crusader keeps busy saving Gotham and doesn't have the best social skills, so he's a bit of a loner in desperate need of a pal. The LEGO Batman Movie – which director Chris McKay describes as a cross between Michael Mann and About a Boy – follows Batman on his quest for happiness.
Below, watch The Lego Batman Movie TV spots.
This Bruce Wayne/Batman works alone. The superhero has intimacy issues, fearing he might lose anyone who comes close to him — which is why he's not so big on his new partner, the Boy Wonder himself, Robin (Michael Cera). The two team up in an attempt to stop the Joker (Zach Galifianakis), who wishes Batman would realize how special their relationship is.
The LEGO Batman Movie is now almost exactly a month away from hitting theaters. If you haven't seen much footage from the film, there are two especially good jokes in these TV spots — one involving the history of Batman, the other the Justice League — some of you would maybe prefer to experience first in a theater:
LEGO Batman looks about as closed-off, insecure, and narcissistic as he was when we last saw him in The LEGO Movie. Batman was a great, supporting comedic force in that movie. So far it looks like this version of the character will handle his own movie just fine. Even if The LEGO Batman Movie has only half of The LEGO Movie's laughs, that would still be a pretty good time at the movies.
The animated film also features Alfred (Ralph Fiennes), Batgirl (Rosario Dawson), Harley Quinn (Jenny Slate), Two-Face (Billy Dee Williams), and Gotham City mayor Marion Grange (Mariah Carey). Expect appearances from Riddler, Catwoman, Penguin, Bane, Scarecrow, Gentleman Ghost, Calendar Man, the Condiment King, and other villains from Batman's rogues gallery.
Here's the official synopsis:
In the irreverent spirit of fun that made The LEGO® Movie a worldwide phenomenon, the self-described leading man of that ensemble—LEGO Batman—stars in his own big-screen adventure. But there are big changes brewing in Gotham, and if he wants to save the city from The Joker's hostile takeover, Batman may have to drop the lone vigilante thing, try to work with others and maybe, just maybe, learn to lighten up.
The LEGO Batman Movie opens in theaters February 10th.