Rian Johnson Discusses Star Wars Episode 8 Plot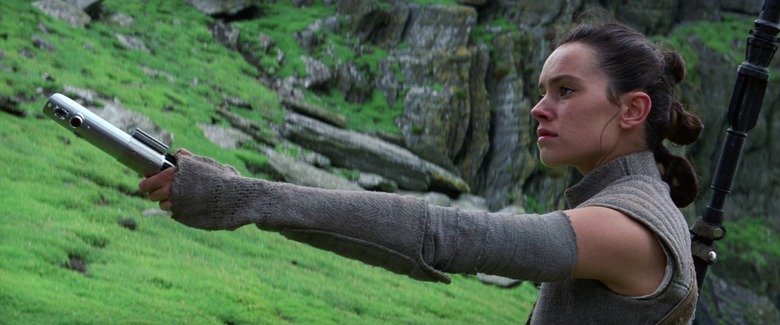 Writer/Director Rian Johnson has not said much about his upcoming film Star Wars Episode 8. At Star Wars Celebration Europe, the filmmaker discussed some of the films he watched as inspiration and briefly talked about the opening of the movie, which in a first for the Star Wars film franchise, will take place seconds after the conclusion of Star Wars: The Force Awakens. Now the filmmaker says a little more about what we can expect from the highly anticipated Skywalker saga sequel. Hit the jump to read Johnson's comments on how Luke and Rey's journies will collide in the Star Wars episode 8 plot.
As part of a 2017 preview, Johnson talked briefly with USA Today and teased the following about the plot for Star Wars Episode 8:
"I don't want to skip ahead two years. I want to see the very next moment of what happens." How Rey and Luke relate to each other is the key relationship in Episode VIII, and Johnson says "a large part of the movie" will be spent addressing why Luke's there and what he'll do next. Like Luke, Rey has been pulled into a bigger world by connecting with the Force, "but part of what's she's dealing with is the realization that she has this power and this gift," Johnson adds. "She's taking her first step to coming to terms with this thing inside her that she never knew was there and is just starting to reveal its potential."
As I mentioned in the opening, we already knew that the film would begin on Ahch-to, the planet that we find Luke Skywalker on at the conclusion of The Force Awakens. But the interesting thing here is that Johnson says that a large part of his movie will be spent addressing why Luke's there and what he'll do next. Why did Luke Skywalker seek out this ancient Jedi temple? Was he there is waiting for someone like Rey to present themselves? Or did he put himself in exile for more dramatic reasons?
We've recently seen rumors that a large part of the Rey/Luke storyline for Episode 8 would take place on this private island, perhaps with Skywalker training this new Jedi. Also, we should learn if Luke is at all related to Rey in this new adventure. Rey dealing with her newfound powers and gift seem to hint that it might not be something that she wanted. The unreluctant hero is something we have seen in the mythic storytelling that Star Wars movies find their basis.
I'm still not convinced that Rey will be the hero of this new trilogy, that she is feeling the calling to the dark side just as much as Kylo is feeling the pull from the light side of the Force. What might it take to push Rey over to edge? What if Finn were to be killed somehow? Remember, master Yoda once said, " anger leads to hate, hate leads to suffering." 
We also still don't know how Disney and Lucasfilm will address the passing of Carrie Fisher, although we've heard she already filmed her scenes for the upcoming movie. I've heard that the filmmakers are not left in a horrible position, and whichever way they choose to address the eventual removal of General Leia Organa from the storyline should not be too difficult of a maneuver production and story-wise.