'Pacific Rim: Uprising' Brings Back Rinko Kikuchi & More; Is Karl Urban In The Cast? [UPDATED]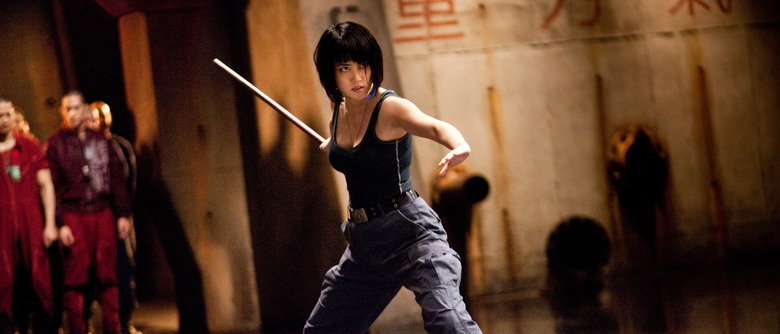 As excited as we are to meet the new leads of Pacific Rim: Uprising, including the lead character played by John Boyega, we've also been curious about which stars from the original might resurface. Although producer Guillermo del Toro has promised that "a lot" of familiar faces would return, more concrete details have been hard to come by. But now that shooting on Pacific Rim: Uprising is officially underway, a new set photo might have revealed some big news.
It looks like Rinko Kikuchi will be back as Mako Mori, along with Charlie Day and Burn Gorman as previously rumored. Not only that, it seems Karl Urban may be part of the cast as well.
UPDATE: Karl Urban has responded to rumors of his being in Pacific Rim: Uprising. See what he had to say below.
The latest Pacific Rim: Uprising casting updates come via this set photo shared by cinematographer Dan Mindel via Instagram (hat tip to /Film reader Edwin H.).
A photo posted by Dan Mindel ASC, BSC,SASC (@dan_mindel) on
As you can see, there's a piece of paper taped to the side of the camera that lists some of the character names and their corresponding cast members. No surprise Scott Eastwood and Cailee Spaeny are on that list, since we already knew they were part of the cast. But it also confirms Day, Gorman, and Kikuchi are all reprising their roles from the first film as Newt, Gottlieb, and Mako Mori, respectively.
As for Urban, we'd caution you to take his casting with a grain of salt since the print is a little difficult to make out. But it sure looks like his name on that pink line. After cross-referencing the list of known stars for Pacific Rim: Uprising, I'm not really sure which other name that could be. Besides, starring in Pacific Rim: Uprising seems like a very Karl Urban thing to do. The man will not rest until he's had a part in every geek property in existence.
UPDATE: For what it's worth, Urban has denied he'll be in Pacific Rim: Uprising.
Hey Peter ,
No , I'm not part of this project ,
Look forward to seeing it though.
😄👍🏼 https://t.co/JMB73zm9Zd

— Karl Urban (@KarlUrban) January 9, 2017


Steven S. DeKnight (Netflix's Daredevil) is directing Pacific Rim: Uprising, taking over for del Toro who helmed the first one. Pacific Rim: Uprising will be in theaters February 23, 2018.