POTD: 'Pacific Rim 2' Set Photo Seems To Reveal John Boyega In A Jaeger Pilot Suit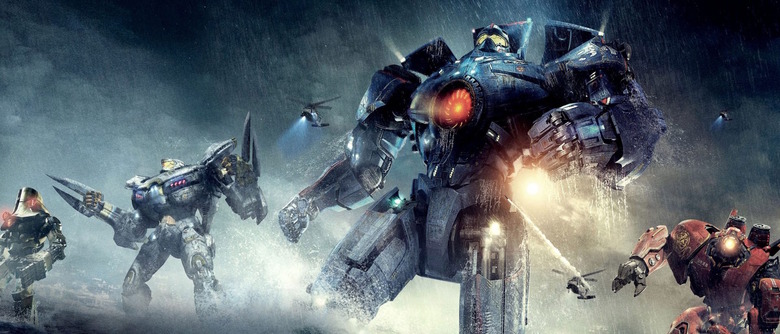 Right now, Universal and Legendary Pictures have Pacific Rim: Uprising (a new title that was announced last month) in production, and that means set photos have been cropping up online every now and then. Due to copyrights, we can't really post any of them for you to see, but that changes today thanks to an Instagram post.
The Pacific Rim 2 set photo in question appears to reveal Star Wars: The Force Awakens co-star John Boyega on set wearing the signature Jaeger pilot suit that we've previously seen worn by Charlie Hunnan, Rinko Kikuchi and Idris Elba. Though it appears the suit design has been changed up a bit.
Check out the Pacific Rim 2 set photo after the jump.
Here's the post from user "tessalucyy" on Instagram:
Is this #johnboyega? #pacificrim #pacifichighway #northsydney #weekend #sydney #pacificrimuprising #pacificrim2
A photo posted by Teluga (@tessalucyy) on
The user wasn't certain if the person seen on set was actually John Boyega, and after taking a closer look, I'm not entirely sure either. This could easily be Boyega's stunt double, or even a stand-in on set just running through a scene for lighting purposes. So far, the only photos of John Boyega in Pacific Rim: Uprising have shown him in action wearing street clothes, making this the first confirmation that Boyega's character will suit up as a Jaeger pilot at some point.
It only makes sense that Boyega would end up piloting a Jaeger at some point. His father is Idris Elba's character Stacker Pentecost, who gave his life in the first Pacific Rim in an effort to help save the world, leaving a history of Jaeger heroics behind him. But maybe Boyega's character is reluctant to take a position inside a Jaeger, perhaps struggling to live up to the legacy of his father.
Previously, Guillermo del Toro (who is only producing this time) had this to say about the story for the sequel:
"It's a few years after the first one.  It's not an immediate follow-up.  It is the world having been freed of Kaiju, what happens to the world after – what happens to the Jaeger technology once the Kaiju are not a threat.  It's quite a jump."
Therefore, maybe Boyega isn't a Jaeger pilot at first because the world has started to use Jaeger's as weapons of mass destruction against each other. Presumably the Kaiju will be making a resurgence (or an uprising), and that prompts Boyega to tap into his inherited pilot skills. We're not entirely sure since plot details have been few and far between.
In addition to John Boyega, the rest of the cast includes Scott Eastwood, Cailee Spaeny and Jing Tian, as well as the supposed return of Charlie Day and Burn Gorman as Newt and Gottlieb. Legendary Pictures has also brought in a larger batch of Asian talent for the sequel, including Zhang Jin, Wesley Wong, Lily Ji, Chen Zitong, Lan Yingying and Qian Yongchen, as well as cameos by Xiao Yang. This push of Asian talent isn't surprising since the movie earned some big box office bank in China, and it may have been the reason that Pacific Rim 2 is even happening.
Steven S. DeKnight of Marvel and Netflix's Daredevil will be directing the film instead of Guillermo del Toro this time, and since the film is arriving over a year from now, on February 23, 2018, we should start hearing more solid details soon. Stay tuned.