Conan O'Brien's Work At TBS Is Evolving, Includes New Series And Potential 'Conan' Changes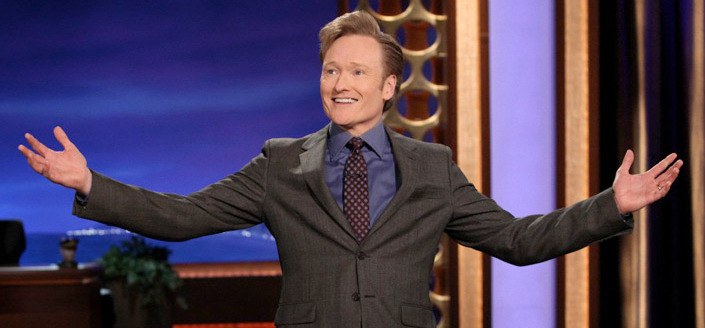 There was quite the brouhaha when Conan O'Brien was removed from his post as host of The Tonight Show following Jay Leno's short-lived retirement from the long-running late night show. Fans were upset, Conan was understandably heartbroken, and it was quite the controversial time for late night television. But thankfully, Conan found a fantastic home at TBS, one that has allowed him to do so much more than NBC ever would have.
Conan has been going strong at TBS for six years now, and during that time he's gone to Cuba for a special episode, hosted episodes from Comic-Con in San Diego and went viral with segments like Clueless Gamer, where Conan plays videos games (of which he knows little about) and jokes around with his celebrity guests while playing them. All of these interesting turns for the comedian will soon result in an evolution of the comedian's relationship with TBS and potentially a change in the format of Conan in the future, perhaps becoming a weekly show instead of a nightly one.
Find out about the potential Conan format changes and more after the jump.
Yesterday, a report from The Wrap shook up Conan fans a bit when it said that TBS would be changing Conan from a nightly talk show to a weekly one. However, TBS head honcho Kevin Reilly was quick to squash that report with this official statement:
Conan remains an invaluable franchise, partner and producer for our TBS brand and we'll be in business with him for a long time. As the media landscape continues to evolve, Conan will continue to lead the evolution of what a talk show will be in the digital age. At this time, we have no plans to change the format or frequency of his popular TBS show. In addition to Conan's daily responsibilities to his talk show, we continue to have very ambitious plans that will further broaden and evolve our relationship with Conan.
While the statement indicates they "have no plans to change the format or frequency" of Conan, an interview that Reilly had with The Hollywood Reporter on the matter indicates that there still could be some changes on the horizon. But the good news is that these changes are not coming from TBS looking to reduce their collaboration with O'Brien. Instead, this is coming from O'Brien in an attempt to figure out how to balance all the stuff he's been doing at TBS and will continue to do through their current deal, which lasts through 2018.
Here's Reilly's informative answer to whether or not Conan will become a weekly show:
No, but it will shift. He has been doing a lot of different things in the last year. These videos he's been doing have gone to 20 million to 30 million-plus and have gone viral. He's done branded advertising that has also had the same kind of virality. He's traveled the world with four specials a year, which we're going to continue to do next year. In addition to producing People of Earth for us, which we renewed for next season and has been a hit for TBS, we also announced a new animated show, called Final Space, that will be in production next year. In addition, he's also been the face of Comic-Con, and that's had a real success and viral breakouts as part of it. All of this is saying that he's beginning to evolve what his brand is and what it could mean as a talk show in the digital age.
So we've been talking about formalizing all of this and taking it to the next step. He came to me a couple of months ago, and said let's talk about how he can balance that with the rigors of a daily talk show. I think it may very well change, but he hasn't really got his hands around what it will be. It's going to be up to him. I'm not forcing him to do anything. We have a deal with Conan through 2018, and you can anticipate it will be renewed beyond that; we're going to be in business with him for a long time. Television is going to continue to be a huge part of his presence, but you can also anticipate a series of announcements between now and the upfronts [in May] that will shed even more light on what we're talking about.
In short, O'Brien has taken on a lot more responsibility at TBS beyond his own talk show, and he's trying to figure out how to balance that with the already monstrous task of producing four hour-long episodes of TV almost every week. There's a chance that could include turning Conan into a weekly show, but that will only be determined by Conan O'Brien himself as time goes on.
One endeavor that will add to O'Brien's workload is a whole Clueless Gamer series, inspired by the aforementioned popular segment from Conan that started as an online fixture but has become a real segment on his show. Here's one of those segments:
In addition to playing Mario Kart 8 with Seth Rogen and Zac Efron above, Conan has also played Final Fantasy XV, Fallout 4, Grand Theft Auto V, Halo 4 and more with the likes of Elijah Wood, Peter Dinklage, Lena Headey, Terry Crews and more.
The Hollywood Reporter reveals Clueless Gamer will go into production as a TV series that will be executive produced by O'Brien, but he will not host the series as he does on his own show. That almost feels like it's missing the point of why people watch these videos. O'Brien is a hilarious comedian who offers funny commentary on video games that he knows next to nothing about. Will people care about that format show with someone else as the host? It likely depends on who that host is and who the guests are.
While it's interesting to see how O'Brien's relationship with TBS is growing, allowing him to create and produce interesting shows outside of his talk show, I'd hate to see O'Brien fall more behind the scenes rather than having him in front of the camera. O'Brien is one of the best comedians working today with a sharp wit and an inkling towards evolving with television and its audience. At least TBS is smart enough to let him figure how he wants to approach his career at the network instead of trying to control it all themselves.
Would you be sad to see Conan become a weekly show?