Sterling K. Brown Joins Marvel's 'Black Panther'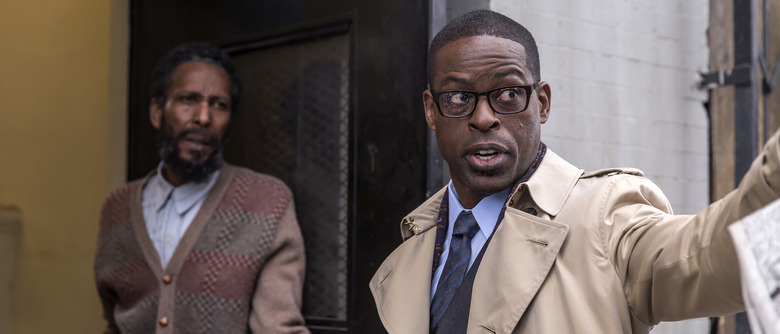 With shooting on track for an early 2017 start, Black Panther is making one more addition to its cast. Sterling K. Brown, who currently stars in the hit NBC drama This Is Us, has joined the Marvel superhero movie alongside Chadwick Boseman, Michael B. Jordan, and more. Ryan Coogler is directing. 
Marvel officially announced the Black Panther Sterling K. Brown casting today. He'll be playing N'Jobu, described cryptically as "a figure from T'Challa a.k.a. Black Panther's past." I believe he's a brand-new character created just for the movie; I'm sure you guys will let me know if I'm wrong and missing something really obvious. I wonder if he might be connected somehow to Erik Killmonger, the villain played by Jordan in the movie, but that's pure speculation on my part.
Brown is mainly known for his TV work, having appeared in shows like Person of Interest and Army Wives. He's coming off of a fantastic 2016. He snagged the Emmy for playing Christopher Darden in FX's American Crime Story: The People v. O.J. Simpson and is up for a Golden Globe for the same role this coming weekend. In addition, he's one of the leads of one of the biggest new dramas of the 2016-2017 TV season, NBC's This Is Us.
Black Panther picks up after the events of Captain America: Civil War, with T'Challa back in Wakanda following his father's death. Although Marvel hasn't revealed an official synopsis, star Lupita Nyong'o offered this brief description last year: "Black Panther's leadership has been threatened by two foes who come together, and so Black Panther gets the help of the C.I.A. and the Dora Milaje to try and defeat the enemy."
Black Panther is collecting quite a cast. In addition to Boseman as T'Challa, Jordan as Erik Killmonger, and Nyong'o as Nakia, the lineup includes Dania Gurira as Okoye, Forest Whitaker as Zuri, Angela Bassett as Ramonda, Daniel Kaluuya as W'Kabi, Winston Duke as M'Baku a.k.a. Man-Ape, and Florence Kasumba as Ayo. Coogler is directing from a script he wrote with Joe Robert Cole. Black Panther will be in theaters February 16, 2018.