'Moonlight' Star Trevante Rhodes Joins Shane Black's 'Predator'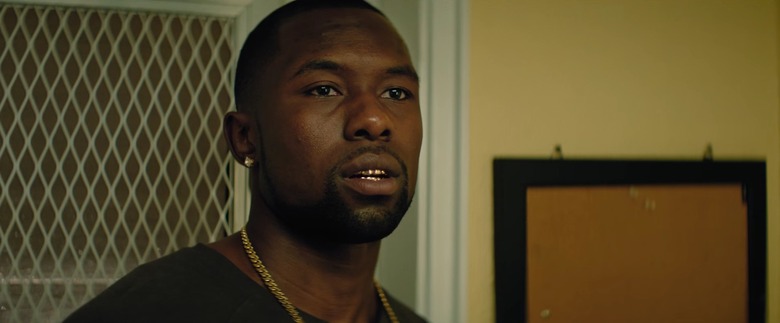 Trevante Rhodes is following up his breakout role in Moonlight with something a little different. Very different, actually. Rhodes has just boarded the cast of The Predator, Shane Black's reboot-quel of the classic sci-fi horror franchise. He joins Boyd Holbrook and Olivia Munn. 
According to The Hollywood Reporter, which broke the news, Rhodes will play the best friend of Holbrook's lead character. Both are former Marines. Munn is playing a scientist.
While Moonlight wasn't Rhodes' first role, it's the one that put him on the map. He's one of the very best things about one of the very best films of 2016, anchoring one of our favorite cinematic moments of the year. He's got a few other films lined up already. He'll hit Sundance later this month with the frat hazing drama Burning Sands, and he might be seen in Terrence Malick's Song to Song this spring. In addition, he's now filming the 9/11 war pic Horse Soldiers with Chris Hemsworth and Michael Shannon.
Plot details for The Predator are murky at this point. The trade reports it is set in the suburbs, but Black has insisted that's not the case. What we do know is that Black's The Predator will function as both a sequel and a soft reboot, as he explained last year:
I think it has to stand on its own two feet, but our goal is to make sure it acknowledges that, yeah, it is 30 years later in the continuity of the story. In other words, Dutch Schaefer's patrol, which was attacked and largely slaughtered, happened 30 years ago in the context of the story. It's referenced, it's part of the mythology. In that way, it's more of a sequel than a reboot.
Tonally, Black said, we can expect The Predator to be genuinely scary, but funny, too:
I think the Predator movies have slightly veered from typical sci-fi in that there is a sort of thriller aspect to them. I think it should be scary, I think it should be funny, and I think ultimately it should be wondrous and about perceiving things that human beings very seldom get a chance to see... I don't mean movie audiences I mean characters in the movie. I'm not saying the movie will be nothing anyone's seen before.
The Predator will start shooting within the next month or so for release on February 9, 2018. Black is directing from a script he wrote with Fred Dekker.