'Thor: Ragnarok' Reveals Official Synopsis & New Behind-The-Scenes Photo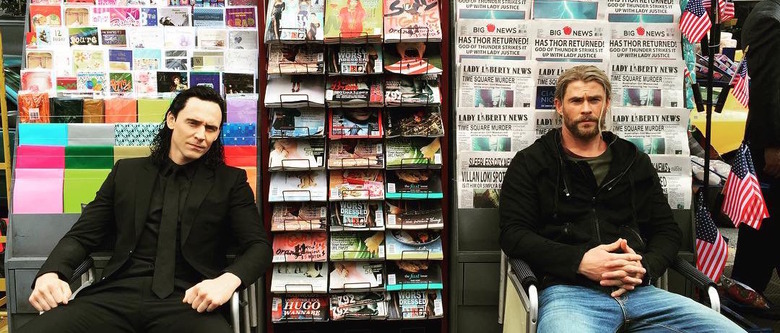 2017 marks the first year Marvel Studios will be putting out three MCU movies, and while we don't want to get too ahead of ourselves here, we've gotta say they all look pretty great so far. The Guardians of the Galaxy Vol. 2 trailer was a crowd-pleaser. The Spider-Man: Homecoming one felt like a breath of fresh air. And Thor: Ragnarok? Personally, I think it's got the potential to be the best of the bunch.
With Thor: Ragnarok's release date still ten months away, it'll probably be a while before the marketing campaign really kicks into high gear. But Disney's starting the year with a tiny taste of what's to come. The studio has finally revealed an official Thor: Ragnarok synopsis that solidifies some of the story details, and a new Thor: Ragnarok behind-the-scenes photo that reminds us Chris Hemsworth's bare arms are still some of the best special effects this franchise has to offer.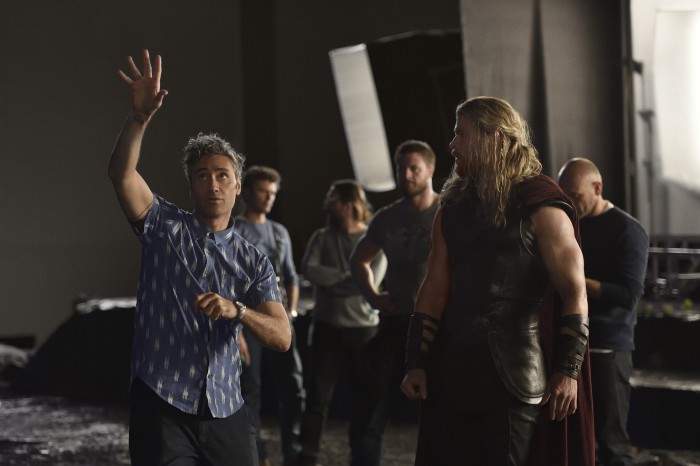 Thor: Ragnarok Synopsis
In Marvel Studios' "Thor: Ragnarok," Thor is imprisoned on the other side of the universe without his mighty hammer and finds himself in a race against time to get back to Asgard to stop Ragnarok — the destruction of his homeworld and the end of Asgardian civilization — at the hands of an all-powerful new threat, the ruthless Hela. But first he must survive a deadly gladiatorial contest that pits him against his former ally and fellow Avenger — the Incredible Hulk!
"Thor: Ragnarok" is directed by Taika Waititi and returns Chris Hemsworth starring as Thor and Tom Hiddleston reprising his role as Loki. They are joined by Cate Blanchett, Idris Elba, Jeff Goldblum, Tessa Thompson and Karl Urban, with Mark Ruffalo and Anthony Hopkins.
Kevin Feige is producing with Louis D'Esposito, Brad Winderbaum, Victoria Alonso, Thomas M. Hammel and Stan Lee serving as executive producers. The story is by Craig Kyle & Christopher Yost and Stephany Folsom, and the screenplay is by Eric Pearson. "Thor: Ragnarok" thunders into U.S. theaters on November 3, 2017.
So much of the buzz around Thor: Ragnarok has centered around the Hulk half of the storyline, which is inspired by the Planet Hulk comic book arc. So it's cool to hear a little bit more about what Thor himself will be doing in the movie. Still unclear is how Benedict Cumberbatch's Doctor Strange will be involved — in fact, they don't even mention his name in the synopsis.
While the new Thor: Ragnarok photo may seem disappointingly mundane after that exciting plot synopsis, it highlights the main reason I'm feeling so optimistic about the movie: director Taika Waititi. He's been behind some of our favorite movies of the past few years, including Hunt for the Wilderpeople and What We Do in the Shadows, and he's promised a very "Taika-esque tone" for Thor: Ragnarok, with a "'70s / '80s sci-fi fantasy" vibe and plenty of opportunities for Hemsworth to show off his comedy chops.